S&P upgrades Brazil's long-term foreign currency sovereign credit rating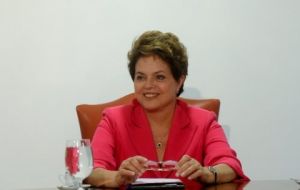 Standard and Poor's Corp said Thursday it was upgrading the credit rating of Brazil by one notch to BBB, adding that the upgrade reflected the country's increasing capacity to hold up against the overall deterioration in the global economic outlook.
"We are raising our long-term foreign currency sovereign credit ratings on Brazil to 'BBB' from 'BBB-' and our long-term local currency ratings to 'A-' from 'BBB+'," the ratings agency said in a statement. "The outlook is stable."
The Brazilian foreign ministry welcomed the upgrade, saying it was recognition that the country's economic policy was heading "in the right direction and its macro-economic fundamentals are "solid."
It described the S&P announcement as evidence of the "success of the management of the Brazilian economy in its goal of strengthening the country."
S&P said the government of President Dilma Rousseff has "demonstrated its commitment to meeting fiscal targets, thereby enlarging the scope for using monetary tools to influence the domestic economy."
"We expect the government to pursue cautious fiscal and monetary policies that, combined with the country's growing economic resilience, should moderate the impact of potential external shocks and sustain long-term growth prospects."
A credit ratings upgrade normally makes it easier and cheaper for a country to borrow on the financial markets, while boosting investor confidence in its outlook
S&P' decision matches a move by Moody's Investors Service earlier this year. Brazil was upgraded to the equivalent Baa2 by Moody's in June and to BBB by Fitch Ratings in April.
Brazil, Latin America's largest economy is forecast to expand 3.16 % this year, according to a Nov. 11 central bank survey of about 100 economists. Last year, the economy grew 7.5%, the fastest pace in more than two decades.
Brazil's credit rating upgrade follows the adoption of prudent macroeconomic policies that paved the way for a "more flexible" monetary policy, the Finance Ministry said in an e- mailed statement Thursday.