"The Lost Angel in New York"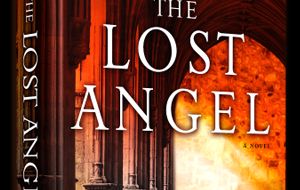 Persistent, inquisitive, and incisive, Javier Sierra, New York Times bestselling, author, historian, and journalist, gave an exclusive presentation to the Foreign Press Association whilst visiting New York City.
Javier claims, "My quest is the histories of mysteries. I have a passion for the mysteries of the past. I want them to become universally known through my fictional writings laced with historical facts, which have always fascinated me."
These historical facts have driven his fantasies resulting in his first leap to international literary fame with "The Secret Supper," his first book published in the United States. Now, with his most intellectually gripping novel yet, Javier Sierra is poised to captivate readers yet again with "THE LOST ANGEL."
Javier has been lauded as a truly sophisticated writer and a commanding voice in fiction entwined with historical fact. But what makes Javier truly intriguing, is not only that he's an internationally bestselling author, but rather that he has a distinct and powerful passion for the mysteries of the past —— and an uncanny ability to make them universal. No mere da Vinci Code redux, The Secret Supper offered an alternate, but equally convincing, message in Leonardo's masterpiece.
Published in 42 countries, the book was widely praised by critics, and became an immediate bestseller — hitting all of the major national and international lists, including the New York Times, the Wall Street Journal, and the Washington Post. On the top ten of the The New York Times Best Seller list, Javier Sierra was the first and only Spanish writer to make the list.

Already a #1 bestseller in his native Spain, THE LOST ANGEL is a heart-pounding apocalyptic thriller that deftly explores the historical enigma of the Great Flood and Noah's Ark. He personally undertook a life-threatening journey crossing the Himalayas, following a 1950s Pentagon spy plane's Mount Ararat sighting of what was thought to be Noah's Ark, and looking for a pair of the 16th century stones – chintamani - used for communicating with God.
The themes of THE LOST ANGEL are universally mass appealing – exploring the presence of angels among us; our physical existence on earth; the connection we all potentially have to the Afterlife; and our collective fear of an impending cataclysmic catastrophe.

As Javier says, "Life is a question. Life is an adventure. So perhaps, reading a book could be the beginning of an adventure." For Javier, writing a book is a quest. He looks to the great classics for his inspiration, such as Don Quixote. "He started a trip to obtain answers in places they might be born."
Javier was an altar boy as a young lad and always had a passion to find out about the unknown and the mysterious. So, whether it is a journey to uncover Noah's Ark in Mount Ararat; killer solar storms ready to destroy the earth; other apocalyptic disasters of our planet; or finding angels along the way, he is ready to encounter them and share his adventures with his readers.
By Dina Pinos & David P. Michaels - New York
Dina Pinos is a New York City based journalist and television producer covering current affairs, culture, food and travel.
David P. Michaels is the MercoPress Bureau Chief and First Vice President of the Foreign Press Association.