Beijing world premiere for "The Iron Lady" with Merly Streep in the presentation
Monday, November 21st 2011 - 07:32 UTC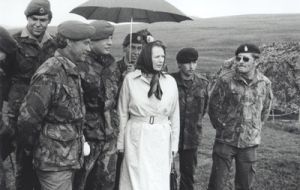 The Iron Lady," Meryl Streep's latest film where she plays Margaret Thatcher made its world premiere in Beijing on Saturday evening during the China-US Arts and Culture Forum and a month ahead of its launching in US and Europe cinemas.
However the premiere was limited to special guests from the Art and Culture Forum which took to Beijing not only Ms Streep but also other US celebrities such as director Joel Cohen, writer Amy Tan and musician Yo-Yo Ma.
Ms Streep has revealed she spent a long time researching in order to take on the role of Britain's first female Prime Minister Margaret Thatcher, who governed Britain from 1979 to 1990 with pro-free market zeal, won the Falkland Islands conflict 8.000 miles away and was instrumental in the collapse of the Soviet political system.
When asked whether the film is targeting for an Academy Award in 2012, the two times Oscar-winning actress said it was not made with a prize in mind.
"The movie has the ambition to be written by a woman, directed by a woman, and it has the ambition of reaching an audience that isn't served currently" she said in an interview with the Chinese government news agency Xinhua.
"Thatcher was a very strong leader at a time when a woman leader was extremely unusual," she said.
Ms Streep remembered being excited when Thatcher was elected in 1979, even though she didn't agree with Thatcher's policies as a young woman.
"In that time, I think she broke ground in people's perceptions," she said, adding that she thinks Thatcher's success had great symbolic effect in Britain, when there was prejudice against women.
The 62-year-old actress joked that the marketing department of her movie company thinks the film is boring, because half of the film is about an old lady, her memories of her husband and her interactions with her daughter.
"It's after power, it's how we take leave of things after a big ambitious life" she said. "The things she had to give up in order to have a life she chose are really interesting to me."
When asked how she successfully interprets different characters, Streep said, "Everybody that I have played is a little bit like me, I just need to find the part of myself that's like that person."
"There are a lot of roles for young girls, but there are just so few roles for a woman of my age, so I am representing something, I am taking one for my team," she said in response to a question about maintaining her presence on the big screen.
In related news the New York Post reported that, contrary to the accusation from a former aide to Margaret Thatcher that the only value of The Iron Lady "is to make some money for Meryl Streep" the Oscar-winning actress had actually cut her standard fee for this film to 1 million dollars.
Sources also say that she donated her earnings from the film to the National Women's History Museum last fall.