Mujica says Brazil supports Uruguay in the fiscal haven controversy with G20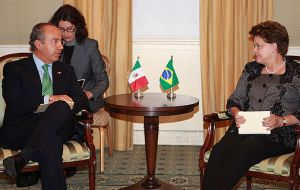 President Jose Mujica said on Sunday that his peer from Brazil Dilma Rousseff will make a strong declaration in support of Uruguay when the next G20 summit to counter French President Nicholas Sarkozy recent statements in Cannes describing one of Mercosur junior members as a "fiscal haven"
"President Dilma has told us not only that she is supporting us, but that for the next G20 summit (of which Brazil is a member) she is prepared to make a strong protest statement in support of Uruguay's position", said Mujica according to a report on the Uruguayan Presidency website.
President Sarkozy in the last G20 summit held in Cannes read a list of countries described as "fiscal havens" in which it included Uruguay and Panama, and warning they would be excluded from the global community for not collaborating in the exchange of fiscal data and transparency.
Uruguay vehemently protested and recalled its ambassador in Paris, France claimed Sarkozy as host and president of G20 was only reading a statement from the group, and in Uruguay most suspected the 'hand of Argentina' that for decades has been wanting to have the list with names and assets of rich Argentines in Uruguay, but refusing to sign an accord to impede double taxing.
Mujica met with President Rousseff over the weekend in Brazil in the framework of the UN sponsored Afro descendents population in the Americas celebrations. According to the Presidency's website, Mujica thanked Ms Rousseff for all the Brazilian government efforts following statements from French President Sarkozy.
Last Wednesday Mexican president Felipe Calderón, who is the current G20 president openly, supported Uruguay saying the country had complied with most of international mandates referred to transparency, recalling Montevideo has an accord with Mexico for the exchange of fiscal data.
The statements were made public during the visit of President Mujica to Mexico.
Uruguay effectively was for a very brief period in the "black list" of countries from the Organization for Economic Development and Cooperation, OCED, Transparency forum, but since April 2009 belongs to a 'grey list' of countries that have complied with most demands referred to fiscal transparency.
However last October the World Forum on Transparency reiterated Uruguay still was not ready to abandon the grey list because in spite of having signed ten of twelve tax exchange agreements, as requested, and negotiating a few others, it must promote such agreements with "neighbouring countries".
In related news last week Panamanian president Ricardo Martinelli met with Sarkozy in Paris and it was announced that France would eliminate Panama from the fiscal havens' list once the two countries sign the fiscal transparency bilateral agreement.
"Panama has made great efforts and we should be signing the agreement with France before the end of the year" said Martinelli.