Obama and Wen Jibao have 'constructive' exchange on the South China Sea issue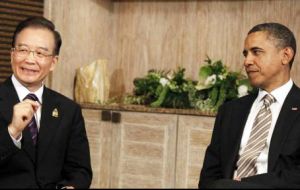 President Barack Obama was encouraged by the constructive tone of a discussion about the South China Sea issue at an East Asia leaders' meeting in Bali, Indonesia, a senior US official said.
The official, briefing reporters on Air Force One as Obama flew home from the summit, said the issue involving competing claims of sovereignty over parts of the vital trade route was discussed fully, and that Chinese Premier Wen Jiabao was by and large "very measured" in his comments.
Vietnam, the Philippines, Taiwan, Malaysia and Brunei all have claims to parts of the South China Sea, a route for some 5 trillion dollars in trade each year and potentially rich in resources. China claims large parts of the maritime region.
The US official said 16 out of the 18 leaders at the retreat "addressed the issue of maritime security and most of those talked specifically about the South China Sea."
The official described Obama as being encouraged by the fact that it was discussed so fully and that the tone was constructive.
"It was not a showdown at the OK Corral," the official added, referring to a famous 19th century Old West gunfight in the United States.
China's Wen asked for the floor after Obama spoke, said the official, who added that Wen had not wanted the issue raised but that he decided to respond once it was.
"Even though maybe he started off maybe a little grouchy, by and large, he was very measured," the official said of Wen.
The official said" "The Chinese will come away from the meeting believing that a heavy-handed approach on the South China Sea will backfire badly and there is a genuine consensus on the importance of a constructive process to find a peaceful way forward."
Obama also raised the thorny issue in a meeting with Wen on the sidelines of the Bali summit.
Obama told Wen, who indirectly warned Washington to stay out of the dispute, that the United States wanted to ensure the sea lanes were kept open and peaceful.
Tensions flared earlier this year with often tense maritime stand-offs between claimants, including China, to the sea. An Australian think tank warned in June the tensions could spark a conflict that could draw in the United States and other powers.