Unasur leaders to meet next month in Venezuela to decide on 2012 agenda
Monday, November 21st 2011 - 07:50 UTC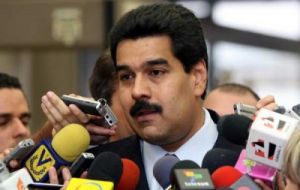 The Unasur (Union of South American Nations) twelve presidents will define "lines of action" for 2012 during a meeting on the sides of the Latin American and Caribbean States Community, Celac, summit scheduled for December 2 and 3 in Venezuela.
The announcement was done by Venezuelan Foreign Affairs minister Nicolas Maduro during a television interview on Sunday. Venezuelan former Foreign Affairs minister Ali Rodriguez will be taking over from Colombia's Maria Emma Mejia the Unasur chair next chair.
Following the death of former Argentine president Nestor Kirchner in October 2010 who held the Unasur chair, the leaders of the region chose to nominate Colombia's Mejia and Venezuela Rodriguez to share the two year post.
Maduro said the Unasur leaders will make a review of the last twelve months achievements and failures and also confirmed that the twelve South American leaders will be attending the Celac meeting that brings together 33 nations of the continent.
"So far we have confirmation from all heads of governments that they will be coming to the meeting for the foundation of the Latin America and Caribbean States Community", said Maduro. The idea is the brain child of Venezuela's Hugo Chavez.
The new organization which excludes the United States and Canada will be articulated in five main areas: political, energy, social development, environment or climate change and economic-financial, according to Venezuelan officials.
Celac will finally come into existence next month in Venezuela, following a formation period which took off in meetings inside the Rio Group. The following meeting is scheduled in Chile in 2012, said Venezuelan diplomatic sources.