Air traffic in Argentina and Uruguay delayed because of volcanic ash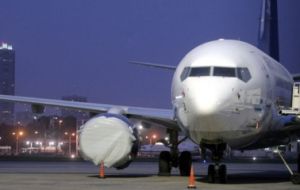 Commercial flights in Argentina, Uruguay and Paraguay were cancelled or reprogrammed Tuesday morning because of disruptions caused by the hovering volcanic ash being blown from the Chilean Puyehue which erupted five months ago.
In Buenos Aires Aerolineas Argentinas operating from the metropolitan Aeroparque terminal said it had cancelled flights to Brazil and Uruguay while it had reprogrammed, hopefully for later in the day, domestic schedules.
However Lan Chile operating from the international airport of Ezeiza, 40 kilometres from Buenos Aires said flights to Chile had kept to schedule.
In Montevideo eight arrivals and five departures involving Aerolineas Argentina, American Airlines, Iberia, Sol Airlines and TACA had to be suspended while other schedules remained delayed.
Laura Vanoli head of Uruguay's Civil Aviation Meteorology anticipated that the flights condition is expected to remain unchanged during the rest of the day because the ash cloud is covering virtually the whole of the Uruguayan territory.
"They are really remnants of the ashes, and we will be seeing temporary improvements during the day but the situation will remain as long as there is activity in the Chilean volcano", said Vanoli.
In Chile the National Geology and Mines service said that the Puyehue ashes can be expected to disrupt air traffic for months since the volcano remains in "a low activity eruption process".
From Asuncion, Paraguay it was reported that scheduled flights heading for the River Plate, Buenos Aires and Montevideo, had been delayed because of the ashes as well as a few others from different origins with final destination in Argentina.
Since Puyehue started spewing heavy ashes last June 4, Argentine carriers Aerolineas and Austral have been forced to cancel between 3.400 and 3.500 flights.
Likewise at Montevideo's Carrasco airport, Uruguay's international air terminal with a hundred daily flights, airlines have been forced on repeated occasions to cancel and delay operations for several days, the last of which in October.
At the peak of the eruption and for weeks following heavy volcanic ashes not only disrupted air traffic in the region but were swept as far as Australia and New Zealand and exceptionally to South Africa.