Brazil makes official support for Uruguay in 'fiscal haven' controversy with G20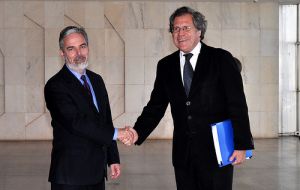 Brazil's Foreign Affairs minister Antonio Patriota said Brasilia supports Uruguay in its controversy with France following President Nicholas Sarkozy claim, at the recent G20 summit, that Uruguay was a 'fiscal haven'.
This is the first explicit public statement from a Brazilian official and from the region in reference to the issue. Over the weekend Uruguayan president Jose Mujica said that his peer Dilma Rousseff had expressed support for the Uruguayan stance.
Two weeks earlier Uruguay's Foreign Affairs minister Luis Almagro on a visit to Brazil also received the same message from Brazil's Deputy Foreign Secretary, but in both cases there had been no public announcement.
"Brazil's position is very clear", said Patriota. "President Dilma Rousseff told President Mujica of Brazil's dissatisfaction with the statements from certain leaders that could give room when addressing the taxing issue, to the improper stigmatization of countries", said Patriota.
Furthermore the spokesperson from the Foreign Affairs ministry Nunes Tovar said that President Rousseff offered to express Brazil's position, in support of Uruguay, during the next G20 summit. "We are perfectly tuned with Uruguay", added Tovar.

Following Sarkozy's statement regarding Uruguay and Panama, in Montevideo political circles fingers pointed towards Argentina, or possibly Brazil of being behind the 'fiscal havens' list of countries, a suspicion confirmed when Argentine Foreign Affaire minister Hector Timerman revealed that at the G20 summit, 'Cristina had asked for an end ot the fiscal holdouts'.
Patriota's statements were made in Brasilia following a meeting with his Uruguayan counterpart Luis Almagro.