EU and Latam leaders call for quick conclusion of the EU/Mercosur trade accord
Tuesday, November 22nd 2011 - 22:49 UTC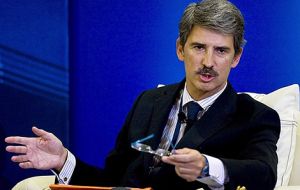 European Union and Latin American leaders called for a quicker pace in concluding the EU/Mercosur cooperation and trade negotiations. The statement took place during the meeting in Brussels of the Euro-Latinamerica Parliamentary assembly.
"Seven rounds of negotiations have taken place and we would like to see on the table new proposals that improve those of 2004, when discussions stalled" said Jose Ignacio Salafranca, co-president of the Euro-Latam parliamentary assembly.
Salafranca was accompanied during his statements by co-president Gloria Guadalupe Oqueli; Benita Ferrero-Waldner president of the EU/LAC foundation; the UN Economic Commission for Latin America and the Caribbean Secretary General Alicia Bárcena and Unasur Secretary General Maria Emma Mejia.
"We expect the agreement to be fair, balanced for both sides and taking into account that farm produce are highly sensitive for the EU", said Salafranca.
The EU lawmaker also revealed that the EU/Latam-Caribbean summit in Chile scheduled for the end of the next year will have to be reprogrammed since it coincides with the next G20 summit to be hosted by Mexico.
"The fact that the summit will have to be reprogrammed will further complicate the advance of negotiations for a EU/Mercosur agreement, thus the urgency for the proposals and reaching an agreement" admitted Salafranca.
The last round of negotiations took place in Montevideo, early November, to try and bring together both sides but there were only advances on technical and regulatory issues. None of the sides allegedly is yet prepared to exchange proposals but there were commitments to achieve such an objective in the first half of next year.
As to the current EU/Latam parliamentary forum Salafranca as well as Barcena and Oquelí said most discussions were absorbed by EU/Latam links taking into account that China is rapidly displacing the EU as its second trade partner and investor in the region.
On the sides it was mentioned that Salafranca's stance was considered encouraging since he is a member of the conservative Popular Party that last Sunday won Spanish elections by a landslide majority.