Protesting 'dictatorship' and 'corruption' Chinese peasants and workers take to the streets
Tuesday, November 22nd 2011 - 18:33 UTC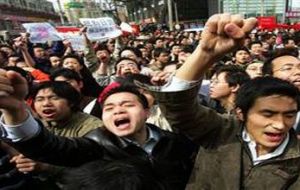 Thousands of demonstrators marched on Monday in south China to protest against a local land grab, carrying banners and shouting slogans opposing 'dictatorship' and 'corruption', locals said.
The peaceful march in Lufeng city in Guangdong province, China's industrial heartland, comes two months after protestors there rioted over the same problem, attacking a police station and ransacking vehicles.
The latest protest against illegal land grabs came after a series of strikes in factories in Guangdong province, China's economic powerhouse.
One witness identifying himself by his surname Yang said by telephone that 4,000 villagers and farmers from Wukan had surrounded the government headquarters in Lufeng City on Monday.
A villager surnamed Zhang, who sent photographs of the protest to news agencies said authorities had failed to tackle what he described as collusion between developers and local officials. No progress, he said, had been made in renegotiating inequitable land deals stretching back to 1998.
"They have done nothing for us. They lied," Zhang said by telephone from Wukan.
Hundreds of Lufeng residents ransacked government offices two months ago in a flare-up over the same issue.
Rural land grab disputes are hitting new highs in China and spreading to the undeveloped west of the country, according to a country-wide poll published in the Outlook Weekly at the end of October, a magazine run by China's Xinhua news agency.
Media reported a new round of industrial disputes over pay and benefits in China's massive export hubs such as Guangdong, as overseas demand for China-made goods weakens amid a sluggish US economy and the Euro zone debt crisis.
Hong Kong's Sing Tao Daily said on Tuesday at least 500 female workers at a bra factory in Shenzhen had staged a protest in the past few days over overtime pay.
Thousands of workers at a Taiwan owned factory manufacturing shoes for brands including New Balance, Nike and Adidas, in Guangdong's Dongguan city went on strike last week to denounce wage cuts and redundancies, Ming Pao Daily reported.
Japan's Citizen Holdings said a strike launched last month over pay and conditions at a watch parts plant in southern China had tapered off after negotiations with staff.
Workers at some of PepsiCo's bottling plants in China staged protests earlier this month against a deal in which beverage and noodle maker Tingyi will buy PepsiCo's money-losing bottling business in China.