Argentina has great hopes with the Caribbean back in the Latinamerican fold
Wednesday, November 23rd 2011 - 20:01 UTC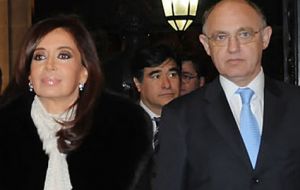 Argentina has great expectations about the coming summit for the official creation of the Community of Latinamerican and Caribbean states, Celac, scheduled to take place next December 2 and 3 in Venezuela, said Foreign Affairs minister Hector Timerman.
"The mere fact of bringing together, united, all countries of Latinamerica and the Caribbean is something that history will recall" said Timerman during a ceremony in Buenos Aires.
He added that the inclusion of the Caribbean is "crucial piece in the unity recovery process for the region which had been divided, many times by fictitious reactions which were inspired in the attitudes of the dominating powers of the time".
Timerman said he would be flying to Caracas with President Cristina Fernandez that will be making an official visit to Venezuela before the Celac summit takes off.
Celac is the brain child of Venezuelan president Hugo Chavez and specifically excludes the Unites States and Canada.
Likewise from Ecuador, President Rafael Correa said his aspiration would be for Celac "to replace the Organization of American States", OAS, which is too much under the influence of 'hegemonic countries'.
"The aspiration of Ecuador is to continue developing Celac as a forum to help solve regional conflicts and which replaces OAS", said Correa speaking to foreign correspondents in Quito.
Correa questioned that Latinamerican problems should have 'to be addressed in Washington' or in the city which is the seat for the Inter American Human Rights Commission, when the US does 'not recognize' the Pact of San Jose de Costa Rica on fundamental guarantees.
"It is more than clear the inclination of OAS in respect of hegemonic countries", said Correa who anticipated that Celac would be the continuation of the Group of Rio when it comes to deal with regional conflicts