Brazil expects a flat third quarter but a strong recovery by end of the year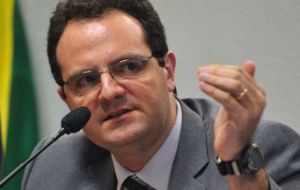 The performance of the Brazilian economy during the third quarter "could very well be flat" according to Nelson Barbosa the second most important man behind Guido Mantega in the Finance ministry.
"We are experiencing a growth deceleration during the third quarter which could reach zero" compared to the three previous months said Barbosa during a brief meeting with the press.
The official data on the third quarter will be released in December.
In the second quarter Brazil's GDP was up 0.8% compared to the first quarter.
The Brazilian government estimates that the economy will expand 3.5% in 2011, mainly based on a strong recovery in the fourth quarter.
Market analysts believe the number will be closer to 3%.
However Barbosa forecasted that growth in 2012 will range between 4% and 5% even when markets estimate 3.5%.
He said that the increase of the minimum wage, fiscal cuts and incentives to industry plus a policy of lower interest rates "should help prop the economy next year".
"These measures have already been approved and implemented. They will have a 4% growth impact for the economy next year, thus our estimate for 2012 is closer to 5%", underlined Barbosa.
Following the 2008/09 world dip the Brazilian economy soared 7.5% in 2010.