EU top diplomat calls for strategic link with Latinamerica and announces trip to the region
Wednesday, November 23rd 2011 - 20:40 UTC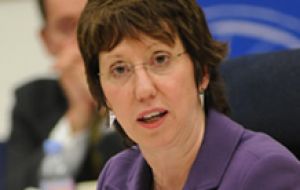 The European Union High Representative for Foreign Affairs Catherine Ashton described relations with Latinamerica as 'strategic' and called for an intensification of political dialogue with the region of which the EU is the main foreign investor.
Speaking in Brussels at the closing ceremony of the Euro-Lat three day meeting (Euro-Latinamerican Parliamentary Assembly), Ashton underlined the role of the EU as the main direct investor in Latinamerica but also defended the need to develop a "strategic link" and to implement a 'political dialogue' that helps establish even closer links.
Euro-Lat co-president, MEP Jose Ignacio Salafrance emphasized that Europe could lose its privileged condition as Latinamerica's main trade partner to China as early as 2015.
The head of EU diplomacy revealed to the Euro lawmakers and Latinamerican counterparts attending Euro-Lat assembly that next year she is planning an official visit to several Latinamerican countries before the European-Latinamerican summit scheduled for June in Santiago de Chile.
Salafranca said he expected that by then the EU would have finished all the internal necessary steps for the signing of the Central America association agreement and the free trade deal with Colombia and Peru, so that they can become effective immediately.
The European Parliament, which still has to approve both documents, has gained power in the ratification process of these type of agreements with third countries or regions based on the Lisbon Treaty.
"The Lisbon Treaty has given the Parliament the opportunity to develop our relations", said Ashton who explained that the treaty enabled the creation of the European Foreign Action Service. This new service has concentrated the resource from EU member states, the European Commission, the EU Council with the purpose of strengthening EU foreign affairs and its role worldwide.
"It is most important that through the Parliamentary assemblies we must be accountable", said Ashton who defended the "preponderant role" of parliaments and civil society.