Global markets slide overwhelmed by negative news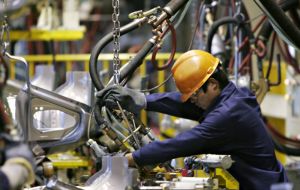 Global markets fell Wednesday after more evidence emerged that the global economy is faltering fast and that the Euro zone is heading for a recession as the debt crisis spreads to the bigger economies like Italy and Spain.
Following figures Tuesday that showed the US economy grew less than anticipated in the third quarter, the bad news has piled up for investors.
With China's economy suffering a fall in manufacturing activity as well, there are clear signs that the Euro zone economy is heading back into recession and that's knocked sentiment in stock markets again.
The grim economic figures come amid ongoing stresses in Europe's debt crisis and mounting speculation that the US may see its credit rating downgraded again in the not-too-distant future following lawmakers' failure to agree on a deficit reduction plan.
In Europe, the FTSE 100 index of leading British shares was down 0.6% at 5,176 while Germany's DAX fell 0.4% to 5,516. The CAC-40 in France was 0.5% lower at 2,857.
Wall Street was also down in its last trading day before the Thanksgiving holiday.
The sense of an impending recession in the Euro zone was evident in the findings of a closely watched survey from financial information company Markit.
Its monthly survey showed the Euro zone contracted for the third month running in November and that the deteriorating economic picture is not just confined to debt-stressed countries such as Greece.
Markit said Wednesday's survey suggests that Euro zone is contracting at a quarterly rate of 0.6 per cent in the fourth quarter and that the problems are increasingly spreading to Europe's two biggest economies, Germany and France.
Earlier, sentiment had been knocked by a manufacturing survey from HSBC indicating that China's industrial sector may be contracting. Its main manufacturing gauge fell to 48 in November from 51 in October — its sharpest fall since March 2009. As in the Euro zone survey, any reading below 50 indicates contraction from the previous month.
Indications that the world's second biggest economy and one of the key engines of growth may not be as supportive to the global economy as it has over the past few years affected the Asian session badly.
Hong Kong's Hang Seng slid 2.1% to 17,864.43. South Korea's Kospi lost 2.4% to 1,783.10 and Australia's S&P/ASX 200 shed 2% to 4,051. Mainland China's Shanghai Composite Index fell 0.7% to 2,395.07, posting its sixth straight session of losses.