Head of Spain's main banking group meets with Brazilian president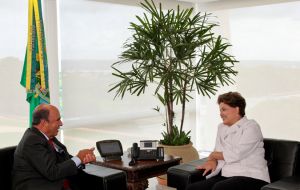 The president of Spain's banking group Santander Emilio Botin described Brazil as "a very interesting market for Spain" following a meeting with Brazilian president Dilma Rousseff.
Botin who last year completed the unification of its group's brands in Brazil under the corporative image of Santander was received by the Brazilian leader at the Planalto Palace where they talked for almost an hour.
"Brazil is a great country and a very interesting one for Spain" said Botin, a fact that can be easily shown through the "business and cultural links between both countries"
He added, "I'm convinced that trade and investment relations between the two countries will continue to grow in coming years and this will be very good for both". Botin said Brazil has "great corporations, well managed and in the process of becoming international".
Spain and Europe can provide great opportunities for these corporations to expand pointed out the Santader Group chief.
Last year Santander finished the process of unifying the brands Santander and Banco Real which the Spanish group had purchased in 2007 from the Dutch group ABN Amro.
Brazil is considered strategic, almost the jewel of the crown, for the leading Spanish bank since it generates 25% of the group's benefits.
Botin's visit is believed to be linked to the bank's plans to sell a billion dollars in shares of its Brazilian unit. Santander filed a prospectus last week saying the unit's controlling shareholders could sell as much as 310.8 million ADRs.
Madrid-based Santander has an 81% stake in the Brazilian unit, according to its website. The amount of stock held by minority shareholders would increase to 26% from 17% when the offering is complete, the prospectus said.
The sale, which followed the initial public offering of shares in the Brazilian unit, will help Santander meet a commitment to have 25% of the shares traded on the Sao Paulo stock exchange.