Chilean 'Solidarity with Malvinas" group manifests public support for Argentina
Thursday, November 24th 2011 - 18:41 UTC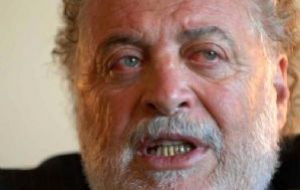 A Chilean 'Solidarity with Malvinas" group visited this week the Argentine legation in Santiago to meet Ambassador Ginés González Garcia and express their support for Argentina's claim over the disputed Falklands and other South Atlantic islands.
The solidarity group includes political leaders, diplomats, academics, intellectuals and retired military officers from across the political spectrum, according to the Argentine embassy.
The meeting followed a request from the group to meet with the Argentine ambassador.
They include former Chilean ambassadors in Argentina Juan Gabriel Valdés, Eduardo Rodríguez and Luis Maira; diplomats Luis Winter and Eduardo Guarachi; Socialist leader Jaime Gazmuri; Radical leader Mario Papi; the writer Antonio Skármeta; retired Admiral Cristián Millar Drago; businessman Juan Eduardo Errázuriz and the Foreign Policy coordinator from the junior partner of the ruling conservative coalition, Beatriz Corbo.
The request from the solidarity group was "to express their support to the Argentine cause in the Malvinas Islands dispute with Great Britain", said Ambassador Ginés González García.
"This is a further demonstration of union between two American peoples which unite behind a cause which is considered increasingly fair by a growing number of countries worldwide. It's an example of the close relations and union between Argentina and Chile" said the Argentine diplomat.
Retired admiral Millar Drago said "this is a clear manifestation of the confidence and certainty many Chileans have of Argentina's Malvinas claim and is a very important message for the region".
"We are hopeful we can contribute to create a framework of cooperation for the continuation of negotiations between Argentina and the United Kingdom", added the retired naval officer.
"We can't tolerate that in the XXI century, there are still colonial enclaves in South America", said Socialist leader Jaime Guzmarin.
He added that the group is made up of a cross section of politicians, diplomats, artists and retired military in support of Argentina's legitimate claims and "to help tell the world and public opinion that Argentina's cause is a fair and just cause".
Similarly the former Chilean ambassador in Argentina and Socialist leader Luis Maira pointed out that "2012 will mark the 30th anniversary of the Malvinas war".
Finally Juan Gabriel Valdes, former Foreign Affairs minister and ambassador before the UN underlined that Argentina's claim is legitimate and "we have come to show Chile's solidarity with Argentina".
Ambassador Ginés Gonzales Garcia is a former Health minister of President Cristina Fernandez cabinet.