Ninety years later epic polar explorers set to rest side by side in South Georgia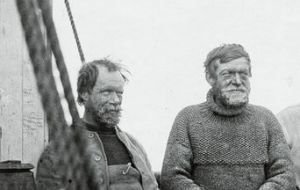 "He is my other self. I love him like a brother". Thus Ernest Shackleton spoke of Frank Wild, his friend and fellow explorer, whose ashes are soon to be laid to rest alongside Shackleton's at the Whaler's Graveyard in Grytviken, South Georgia, 90 years after their last great polar venture.
For anyone who has an interest in the great period of Antarctic polar exploration in the early Twentieth Century there are a cast of characters who have inspired our awe and admiration for decades. Not just the big three – Amundsen, Scott and Shackleton – but a host of other men of unsurpassed courage, determination and endurance whose names have become monuments to early Antarctic history: men like Tom Crean, Frank Worsley, Douglas Mawson, Frank Hurley and Frank Wild.
After a quest that has lasted nearly 9 years, the ashes of one man, Frank Wild, have been moved from their last resting place at Braamfontein Cemetery in Johannesburg to be taken to South Georgia for burial alongside his old boss and friend, Ernest Shackleton. Angela Butler, a South African author, former journalist and co-founder of Ice Tracks Expeditions, aware that the adventurous Yorkshire-man had spent the last 17 years of his life in South Africa until his death in 1939, first began researching his life in 2002, an undertaking which also led her on a quest to find his last remains. The search was often frustrating: leads followed and ending in trails gone cold led to disappointment and near resignation until chance, and instinct, led her to the Braamfontein Cemetery. There, in a vault under the chapel, Frank Wild's ashes were discovered in January 2011.
Wild was one of the most seasoned polar explorers and the only one to have served on five expeditions to the Antarctic over a period of twenty years. He accompanied Shackleton on both of his terribly brave, but ultimately unsuccessful, bids to reach the South Pole and was such a trusted and capable right-hand man to the great explorer that following the sinking of the expedition ship "Endurance" in the Antarctic pack ice over a year earlier, Shackleton chose him to take charge of the 21 men left on Elephant Island as he and 5 others set sail on a rescue mission to South Georgia in the lifeboat James Caird. For four desperate months Wild held the camp together, living on the beach under boats and canvas and surviving on a diet of seal, penguins and seaweed until their eventual rescue in August 1916. Despite the harsh conditions not one man was lost. Wild was later second-in-command to Shackleton's last polar expedition which was interrupted prematurely and unexpectedly by Shackleton's sudden death from a heart attack in January 1922 in South Georgia. Wild completed the journey to Elephant Island and along the Antarctic coast and was later awarded a CBE for his efforts.
Along with Angela Butler, 3 of Wild's extended family members - 2 great-nephews and one great-great niece - are accompanying his ashes and headstone to South Georgia aboard the Akademik Ioffie. Also included in the party, aside from a number of journalists and TV crews, is Alexandra Shackleton, granddaughter of Ernest. Ninety years after they were last together, Wild and Shackleton will be reunited in the presence of their descendents and extended family members.
A ceremony will be conducted in the chapel at Grytviken where, among other things, the poem "Sea Fever" by John Masefield will be read out, before he is taken to the Whaler's Cemetery for burial. The Reverend Richard Hines who has traveled to South Georgia from Stanley in the Falkland Islands with them for the purpose will conduct the ceremony.
A BBC documentary recording this extraordinary footnote to an extraordinary life will be aired in April on BBC2. Angela Butler's biography on Frank Wild, "The Quest for Frank Wild" was released earlier this year.
"I must go down to the seas again to the lonely sea and the sky,
And all I ask is a tall ship and a star to steer her by."
John Masefield "Sea Fever"
By Janet Robertson - SeaAledPR - Stanley