Largest container vessel to visit South America calls in Peruvian and Chilean ports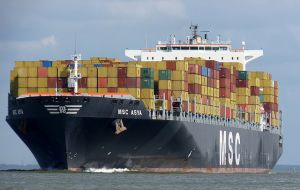 The largest ever container vessel to have docked in South America is currently in Valparaíso, Chile, after having called in Peru's El Callao and Iquique in northern Chile.
Panama flagged MSC Asya with a gross tonnage of 107.849 is managed by the Italian Mediterranean Shipping Company.
The head of Mediterranean, Alan Thiznau said the vessel was built in 2008 by the Korean Samsung shipyards and has a length of 337 metres and 45.6 metres beam and a depth of 22.81 metres.
With a draft of 15.53 metres the Post Panamx vessel carries 18 rows of containers across her beam with a total capacity of 9.200 TEU. Currently 70% of its cargo is made up of auto spares, wine and fruits.
MSC Asya is manned by a crew of 22.
"This kind of great dimension vessels do not need that many crewmembers given its state of the art technology", said Thiznau.