Brazil's Labour minister closer to the brink on further corruption accusations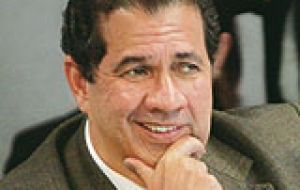 Brazil's Labour minister Carlos Luppi is again under a barrage of accusations from the Sao Paulo press which could definitively make him the sixth toppled cabinet member in less than a year from the government of President Dilma Rousseff on charges of corruption.
Luppi who has held the job since 2007 was accused by Folha de Sao Pualo of having received a salary from the Lower House of Congress as a "ghost" advisor between the years 2000 and 2006, during which time he was almost exclusively involved in performing duties as co-chair of the Labour Democratic Party.
Based on claims from former staff, deputies and former members of Congress during those years Luppi was paid the highest 'advisor' salary without spending much time in Brasilia. Documents to that effect were published in the press.
Through his spokesperson Luppi admitted having acted as an 'advisor' on certain periods of time but insists "he never committed an illegality', published Folha de Sao Paulo.
Veja, the magazine with the highest circulation in Brazil also has the testimony of a mechanical worker from Sao Paulo who alleges an aide of Minister Luppi attempted to collect money for making legal a trade union back in 2008.
"They asked for a million Reais (529.000 dollars) so we could register the union we wanted to start", said Irma Batista. "We know several unions were blackmailed but they are scared of coming up front".
According to Veja the Brazilian government was warned about the case by union members from the ruling Workers Party nine months ago, "but did nothing".
Luppi's problems took off at the beginning of November when Veja published an article linking one of his aides, now suspended, to alleged corruption payments to organizations that subscribed contracts with the Labour ministry.
Luppi was later accused of creating "ghost" unions and having travelled extensively on the private jet of a businessperson whose company has dealings and contracts with the government.
The minister has denied vehemently all claims of corruption inside his ministry, while President Rousseff has yet to take a decision on the issue and Luppi's continuity in the cabinet. The president has said she would wait for the results of two parallel investigations: judicial and administrative.
Since las June Rousseff has lost four ministers on corruption allegations and a fifth for public statements referred to his colleagues in the media.