Petrobras domestic oil production stable at 2m bpd during October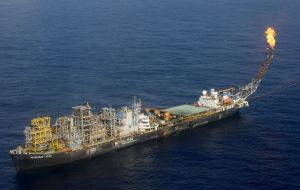 Brazil's government managed oil and gas company Petrobras said on Friday its average October domestic crude output remained stable versus September at 2.00 million barrels per day.
The un-programmed stoppage of the P-35 platform in the Marlin field hurt last month's production numbers, as did delays in the restart of the PCE-1, PNA-2, P-18 and P-19 units, the company said.
Including foreign production, Petrobras' output of oil and natural gas reached 2.61 million barrels of oil equivalent per day (boed), the company said, up from 2.59 million boed in September.
For the year through October, average crude output in Brazil stood at 2.01 million bpd, compared with 2.00 million bpd over the same period last year. Global output for the year is averaging 2.60 million bpd and compares with 2.58 million bpd a year earlier.
Likewise Petrobras announced it has confirmed the presence of good quality oil in well 4-SPS-91, in south Santos Basin, at an area known as Tiro and Sidon.
The new well, informally known as Patola, is located at a water depth of 299 meters, some 200 km off the coast of São Paulo State and 3.8 km from discovery well 1-SPS-57, in the area of the Evaluation Plan of the discoveries of wells 1-SPS-56 and 1-SPS-57, former block BM-S-40.
Preliminary analyses indicate that this oil is of the same quality as the oil found in wild cat wells, around 36o API. This discovery confirms the potential of good quality oil in shallow waters of south Santos Basin.
The discovery was confirmed by oil sampling obtained through cable tests, in sandstone of the post-salt. This reservoir is approximately 2,160 meters deep.
Petrobras 'will proceed with the activities and investments provided in the Evaluation Plan, including the drilling of other wells in the area and will proceed with the Extended Well Test (EWT), which is currently in progress in wells 1-SPS-56 and 1-SPS-57'.