Surrounded by the Colombian Army, FARC kills four hostages and one escapes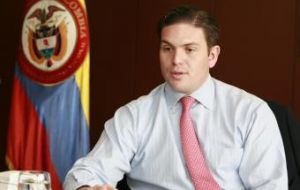 Colombia's FARC rebels have executed four hostages but a fifth hostage was found alive after escaping his captors, the defense minister said Saturday. The hostages had been held at a FARC encampment in the remote Solano region of southern Colombia.
"Four hostages, members of the security forces, have been killed," Defense Minister Juan Carlos Pinzon told a press conference, adding that their bullet-ridden bodies had been found early Saturday.
Pinzon said Colombian troops had approached the FARC camp in Caqueta department, and the two sides exchanged gunfire. Only afterward did they discover the hostages' bodies -- three shot in the head, one in the back, all apparently executed.
Three of the hostages were policemen and the last was soldier Jose Libio Martinez, the FARC's longest-held hostage who was abducted nearly 14 years ago in a rebel ambush on a military base, the defense ministry said.
Two of the three policemen had been held for more than 13 years. The last hostage killed was kidnapped in December 1999 by the Revolutionary Armed Forces of Colombia, Latin America's longest-running insurgent group.
President Juan Manuel Santos said the FARC were "solely responsible" for the four hostage deaths, saying: "It's a heinous crime that deserves the condemnation of all Colombians and the international community."
Marleny Orjuela, who heads a group of relatives of FARC hostages, however condemned the military operation leading up to the discovery of the bodies, and slammed the "inhuman" attitude of the government and rebel forces.
"They killed the hopes of our families," said Orjuela, recalling how the pressure group had consistently opposed the use of confrontation to gain the freedom of hostages.
Pinzon later shared the good news that police sergeant Luis Alberto Erazo, who had been held for 12 years, fled the rebel camp when the firefight broke out, hid in the jungle and later made contact with government forces.
"When he heard the first shots, he decided to flee," the minister said, adding he was in "reasonable" physical condition, despite the fact that he suffered injuries to his face when rebels in pursuit tossed grenades at him.
Erazo's 16-year-old daughter Gisella said, "I'm very happy. It's the best day of my life."