UNASUR agrees to promote inter-trade and make operational infrastructure bank
Sunday, November 27th 2011 - 01:17 UTC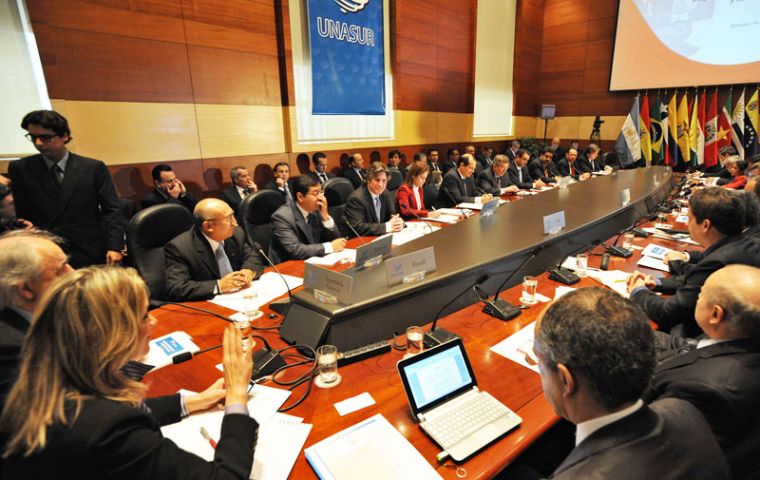 Unasur (Union of South American Nations) Economy and Finance ministers plus Central bank governors agreed to promote inter-regional trade as a way to cope with the incoming international crisis and anticipated that the South (development) Bank would formally be in operations in three weeks time.
Following the meeting held Friday in Buenos Aires of the Unasur economy and finance council, it was announced that Uruguay is committed to complete congressional approval of the South Bank charter in the next week so that the minimum capital subscription (66.3%) can be reached thus making the financial institution effectively operational.
"The charter has been approved by the legislatives from Argentina, Bolivia, Ecuador and Venezuela and with Uruguay, hopefully next week, we can reach a capital subscription above 66.3%, which is needed to put the bank to work", said Hernan Lorenzino, Argentine Finance secretary. "We hope it won't take longer than 20 days".
According to the office of Uruguayan Senator Lucia Topolansky, lawmaker Ruben Martinez Huelmo president of the Lower House International Affairs Committee has been contacted to help speed the approval of the bank initiative before President Jose Mujica travels next week to Venezuela for a regional summit. The Uruguayan Senate has already passed the bill.
Likewise the council approved to promote trade among members of the region as a way to defend members from the international crisis, said Argentine Economy minister and host of the meeting Amado Boudou.
The initiative is included in a document to be presented to the coming Unasur summit 3 December in Caracas, added the minister and Vice-president elect.
"We have a consensus proposal to promote inter-regional trade to absorb the impact of the crisis from the developed countries economies", said Boudou
"In a context of strong economic and financial international crisis, the region has the potential to continue with growth policies and social inclusion, with the creation of jobs", reads a clause from the final meeting statement.
"It has been agreed to present the heads of state and of government with proposals that have the purpose of promoting inter-regional trade", said Boudou. The minister explained that "as the speed of growth in developed countries decelerates aggravated with austerity plans that lower the income of the popular sectors and consumption, unemployment is created.
"In this context Latin American can become the world's locomotive", pointed out Boudou. .