Puerto Toro, the most austral town in the world celebrates its 119 anniversary
Tuesday, November 29th 2011 - 06:07 UTC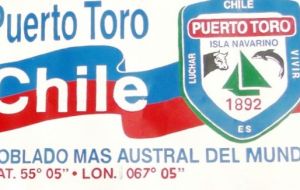 The most austral village in the world, the Chilean town of Puerto Toro is celebrating this week the 119 anniversary of its foundation.
The town was started in 1892 when the gold rush in the extreme south islands of the continent convinced the Chilean government of the need to have an administrative colony in the region.
This also followed on the Chilean authorities of the time commitment to establish settlements along the Beagle Channel islands, an idea that had a strong promoter in then governor Daniel Briceño as part of a wider policy of ensuring territory integrity.
A few months later, between July and September of 1892, fifteen vessels arrived with 424 passengers to remain in the new town on Navarino Island.
The following Magallanes governor Captain and former Deputy Secretary of the Chilean navy Manuel Señoret, materializes the wishes of his predecessor and of the government's policy towards the region by intensifying Chilean presence and optimizing the colonization process.
On November first 1892, Governor Señoret sets off south from Punta Arenas in the Magallanes corvette. He is sailing with Captain Ramiro Silva and a small police platoon made up of one Sergeant, one corporal and eight ranks.
The only favourable place for landing and establishing a settlement was Puerto Toro, known by that name in the last three years when a steamer, "Toro" sailed around. Before, the location was identified as Afluruwaia.
On 26 November 1892 Governor Señoret announces the founding of Puerto Toro, later confirmed by Decree 4.407 rapidly becoming the demographic centre of the east coast of Navarino and of Islands Picton, Lenox and Nueva.
Governor Señoret is attributed with the promotion and colonization for Chile of the austral islands thus ensuring control over the extreme south of the country.
However he is also accused of being too lenient with the number of settlers arriving and allowing them to commit excesses and abuse to the local indigenous population. This was particularly true with the distribution of land.
Currently Puerto Toro has a hundred residents between civilians, fishermen, teachers plus Carbineros and a Navy stockade with their families. The population increases significantly when the king crab season.