Spain no longer wonderland: in 2011 more people are leaving than arriving
Tuesday, November 29th 2011 - 06:01 UTC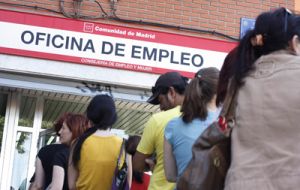 For the first time since data is recorded the number of people leaving Spain in search of better opportunities will be higher in 2011 than those incoming, according to the country's stats office, INE.
This year 450.000 persons (351.588 in the first nine months of the year) are expected to arrive in Spain compared to 589.850 that are leaving tempted by opportunities they can't find in the country, which would generate a deficit of 130.850.
"Looking at the numbers we can only think in the current economic situation" said INE Deputy head Sixto Muriel who anticipates that negative migration will continue until at least 2020, the last year that was considered.
Since 2008 the collapse of the Spanish economy and the labour market has been steady having reached unemployment of 22% with no end in sight according to most economists and academics.
This compares with 2007 when a million foreigners landed in Spain in search of work of which over half have returned in the following three years.
However Muriel points out that the worst years were 2008 and 2009 when the arrival of immigrants dropped over 50% and stabilized in approximately 450.000 annually.
But these few years a reverse phenomenon has been occurring with a strong steady increase in the number of people leaving Spain said Muriel who estimates that in 2011 over half a million plan to abandon the country including over 50.000 Spaniards which is considerably higher than the 34.000 of 2008.
Social Security has also felt the impact of labour recession for migrants in Spain and their decision to return to home countries.
Since October 2008, Spain Social Security has lost 274.815 foreign affiliates equivalent to 13.3% of the 2,060.000 registered. Currently foreigners represent 10.28% of total affiliates to the Social Security which numbers 17.360.313.
By countries, most of the registered belong to Romania, 287.225; followed by Morocco, 206.680; Ecuador, 135.126; Colombia, 97.178; China, 86.653 and Bolivia with 82.843.
According to Spain's standing migration observatory there are currently 5.144.269 'legal' immigrants in the country (with residence or work permit) of which 2.476.334 come from the European Union and 2.667.935 from third countries including Latinamerica.