Venezuela and Colombia agree to boost trade by reducing tariffs on 3.500 items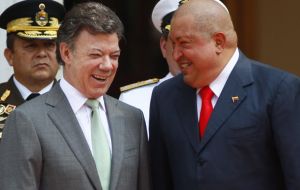 Venezuelan president Hugo Chavez and his visiting Colombian counterpart Juan Manuel Santos subscribed Monday a trade understanding covering 3.500 items, based on the most exchanged products in recent years, and agreed on an ambitious energy projects that include neighbouring Ecuador and Panama.
"I am very pleased with the signing of these agreements, which I'm convinced will bring great benefits to the peoples of Venezuela and Colombia; that's what integration is about" said the Colombian leader.
The new understanding replaces the previous bilateral trade framework which existed as part of the Andean Community of Nations, CAN, a regional integration mechanism which Venezuela abandoned last April.
Santos said that the agreement "which still is limited includes almost 3.500 tariffs involved in the creation of the strong bilateral trade of recent years which at its peak reached over 7 billion dollars.
"The understanding has the same objectives that the trade treaty agreed twenty years ago and is geared to eliminate tariffs and other non tariff barriers" of produce that can be expected to keep increasing the value and volume of bilateral trade.
President Chavez recalled that bilateral trade in 2008 reached over seven billion dollars and "our potentials are even greater".
"Let's work together and harder so that trade really explodes far beyond 5, 6 or 7 billion dollars in the shortest time possible as well as continue advancing in the combined chain production between our two countries" added Chavez.
The Venezuelan leader made it a point to underline that both countries need to continue "to strengthen our friendship, our confidence, our personal relations and above all our political relations".
Bilateral trade reached 7 billion dollars in 2008 but then collapsed to 4.6 billion in 2009 and again the following year until the full breaking of diplomatic relations.
Santos underlined the good moment of bilateral relations: "they are moving full steam ahead; it has been 16 months since we re-established full diplomatic relations".
However the Colombian leader was also pragmatic saying that as in all relations "some things advance quicker that others, but always after the same objective: strengthening relations between two nations destined to work closely and in coordination".
The two presidents also agreed to join efforts in the building of a pipeline that would enable Venezuelan oil to reach the Pacific crossing Colombian territory. The network could be extended to include Ecuador and Panama.