China changes policy: eases credit and lowers bank reserves ratio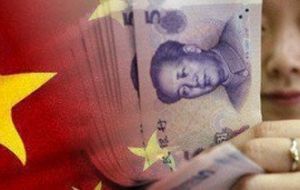 China's central bank cut the reserve requirement ratio for its commercial lenders on Wednesday for the first time in nearly three years to ease credit strains and shore up an economy running at its weakest pace since 2009.
The shift to an easing policy comes amid increasing concern worldwide that the global economy is on a slippery slope as the Euro zone struggles to decisively tackle its two year debt crisis. Global markets recovered early losses on the news.
China's central bank said on its website it lowered the reserve ratio by 50 basis points, effective Dec 5. That reduces the ratio for the biggest banks to 21% from a record high 21.5%, freeing up funds that could be used for lending to cash-strapped small firms.
The cut in reserves releases between 350 billion Yuan and 400 billion Yuan (54.8 billion to 62.7 billion dollars) into the banking system, analysts estimated.
The People's Bank of China joins the central banks of Brazil, Indonesia, Thailand and the Euro zone, among others, in easing monetary policy, a reflection of growing alarm that the euro zone debt crisis could drag the global economy back into a recession.
As recently as the middle of 2011, China was still tightening monetary policy to combat stubbornly high inflation, which rose in July to a three-year high of 6.5%.
However, as the economy felt the chill of a slowdown in global activity and inflation eased, Beijing adopted a policy of "fine tuning," which targeted parts of the economy, such as loosening credit for cash-starved small firms.
A rare outflow of capital from the economy in recent months and a central bank decision in August to widen the base for calculating banks' reserve requirements had also tightened liquidity.
The cut in the reserve ratio was the first since December 2008 and marks a monetary policy shift to an easing bias.
However, analysts said they did not expect the central bank to cut interest rates anytime soon. It would favour further cuts in bank reserves first.
China's economic growth has eased for three straight quarters due to tight credit at home and flagging demand overseas. The economy grew 9.1% in the third quarter from a year earlier, its weakest pace since the second quarter of 2009.
This week the Organisation for Economic Co-operation and Development forecast that China's growth will slow in 2012 to below 9% for the first time in a decade.