UK and Norway reaffirm commitment to polar and Southern Ocean cooperation
Wednesday, November 30th 2011 - 20:27 UTC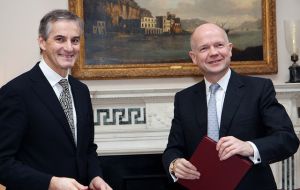 The Foreign Secretary, William Hague, and Norwegian Foreign Minister, Jonas Gahr Støre underlined on Wednesday their commitment to enhance UK/Norwegian cooperation in the Polar Regions.
The ministers signed a High Level Arrangement, which will launch a new £600,000 fund to provide for a series of collaborative scientific and cultural heritage projects over the next year. These will include the protection of the ecosystem of the Southern Ocean and conservation of the shared cultural heritage of the British Overseas Territory of South Georgia & the South Sandwich Islands.
The arrangement highlights the importance of the Polar Regions and UK and Norway's shared polar heritage and scientific expertise one hundred years after Roald Amundsen and Captain Robert Falcon Scott set out on their expeditions to the South Pole.
Foreign Secretary Hague underlined the significance of the exploration spirit shared by both countries which continues to our days.
"I am delighted that Foreign Minister Støre and I have been able to sign this important arrangement which celebrates the centenary of Amundsen and Scott's expeditions to the South Pole. The spirit of exploration and the dedication to discovery demonstrated by the early explorers of the 20th century left a legacy of scientific excellence, which both our countries continue to this day. The UK and Norway continue to share close common values for the future protection of the Polar Regions and we are delighted to collaborate with them closely on a range of projects of mutual interest", said Hague.
The High Level Arrangement follows the joint statement signed by Primer Ministers Jens Stoltenberg and David Cameron on 19 January 2011 on building a bilateral and global partnership.
The Arrangement and underpinning Memorandum of Understanding set out the practical and political intent of the UK and Norway to broaden the scope of their cooperation regarding polar research and management of our shared Antarctic cultural heritage.