Chile requests extradition of former US Army officer allegedly involved in the 1973 killing of two US citizens
Thursday, December 1st 2011 - 16:30 UTC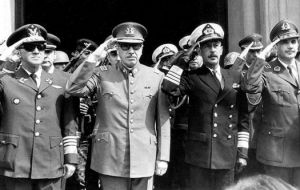 Chile's Supreme Court has requested the extradition of former US army officer, Capt. Raymond E. Davis, over his alleged involvement in the murder of two US citizens in Chile, days after the coup of 11 September, 1973 that ushered in 17 years of brutal military rule.
Judge Jorge Zepeda issued the indictment request as part of a long-running trial into the deaths of Charles Horman and Frank Teruggi, triggered by a criminal suit filed in 2000 by the widow of one of the victims, Joyce Horman.
Capt. Davis, who was commander of the US Military Group in Chile, is accused of providing Chilean military intelligence agents with information that led to the arrest, torture and subsequent death in custody of the journalists.
The trial has already made significant advances in its attempt to establish the chain of command that led to the arrest of former Chilean military officers accused of tracking the journalists in the last days of their lives.
The case was given high international profile following the 1982 release of the award winning film "Missing," which promotes the allegations of Joyce Horman that her husband was murdered because he was unwittingly made aware of CIA involvement in the military coup.
The victims were both involved in the American Information Source (FIN), a left-wing organization which supported socialist President Salvador Allende in the years leading up to the coup.
Horman is believed to have made contact with Captain Davis in a hotel in the port city of Viña del Mar and was later driven by the former naval officer to Santiago, days before his detention. Both bodies were later discovered in the streets of the capital, riddled with bullets and showing signs of torture.
In 2001 the Chilean government issued a request to hear the testimony former US Secretary of State, Henry Kissinger, over the role of US intelligence services in the case.
The US government has officially and repeatedly denied any involvement in the coup, although government documents, declassified by the Clinton administration in 1999, declare that "U.S. intelligence may have played an unfortunate part in Horman's death".
Judge Zepeda's ruling drew heavily on evidence procured from the heavily redacted documents, which describe Cap. Davis as "being in a position. . . [to] prevent the murder" of the journalists, given his "coordination with Chilean agents."
The US Embassy in Santiago released a statement stating that it does not comment on specific cases. "The US government continues to support a thorough investigation into the Horman and Teruggi deaths in order to bring those responsible to justice," the statement said.
Cap. Davis has denied his involvement in the murders. His whereabouts are currently unknown.
By Joe Hinchliffe - The Santiago Times