The best beauty contest in the world and a Brazilian obsession: Miss Bumbum
Thursday, December 1st 2011 - 04:09 UTC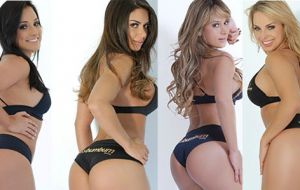 What can be greater for Brazilians than the 2014 World Cup which will be hosted by the country? The best beauty contest of all times…the several reasons to visit Brazil in spite of all the street killings: the Miss Bumbum competition.
Hundreds of Brazilian women turned out for the Miss Bumbum "best buttock" competition which has become a national obsession, reports the Sao Paulo press which points out that it is the first time such a contest is officially displayed.
"Women with but one objective: have their buttock chosen as the prettiest in Brazil", says Cacau Oliver organizer of the contest.
"Over 500 candidates from all over Brazil turned out, but only 27 were chosen, one for each Brazilian state, but the number is now down to 15" added Oliver who said the winner will be honoured with 5.000 Reais (approx 2.600 dollars) plus the possibility of wining other prizes by displaying their nature gift in events or even with a little bit more of audacity in some men's magazine.
The ladies that have been chosen among the top fifteen come from different venues of life: some are models who know catwalks, journalism students, physical trainers, saleswomen and even corporate leaders.
Oliver said that in spite of no final verdict yet, the people who chose the finalists already have their favourites. The three most voted are Eliana Pasking, 27, from the state of Para; Elisangela Ferreira, 31 from Amapá and Carina Santos, 24, Minias Gerais.
However the final decision will fall upon ten juries among which two representatives from the "Sexy" magazine; the model Sabria "Boing Boing" and Lorena Bueri, from Matto Grosso who was Miss Brazil in the latest Miss World contest.