Buenos Aires launched 2011/12 season with the Italian cruise 'Opera'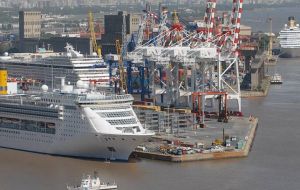 The 2011/12 cruise season was officially inaugurated this week in Buenos Aires with the arrival from Venice of 'Opera' with 1.900 passengers. The cruise vessel belongs to the Italian company MSC and most tourists are Argentines, as well as French, Italian, German and Brazilians.
'Opera' left Italy 10 November and during twenty days sailing called at Malta, Barcelona, Casablanca (Morocco), Canary Islands, Recife, Salvador de Bahia and Rio do Janeiro.
Following its arrival to Buenos Aires 'Opera' has a long list of 'mini' cruises scheduled until the end of April including Punta del Este and Montevideo in Uruguay; Isla Grande, Cabo Frio, Rio de Janeiro, Isla Bella and Buzios in Brazil.
The vessel is scheduled to manage 41.000 bookings in the four months period.
Likewise MSC Musica will be making three trips of 13 and 14 nights to the northeast of Brazil calling at Rio do Janeiro, Buzios, Copacabana, Recife; Maceio and Salvador Bahia.
"One of the main objectives of cruises is for tourists not only to enjoy visiting interesting cities but also entertainment on board which includes comfort, gastronomy, games, sports, competitions" said Carlos Podestá head of 'Opera' entertainments.
"There's that fantasy that when on holidays you do things or participate in activities you would normally not practice in normal life: you've come on board to leave stress behind and that is our main job", added Podestá.
And this is emphasized by the belief that "whatever you do on board stays on board, and that could mean sixty year-olds dressing up as clowns and really enjoying their time".
With this in mind the 'Opera' provides multiple entertainment activities and shows of music, dance, magic, as well as the casino, callisthenics, the pool, spa and even a library.
"The idea is that everybody enjoys and makes dreams come true", said Podestá.
"We have cases of people who repeat the cruise, even ten years later and they come up with their girlfriend or children or new family, and this is because you build strong links while on board", points out Podestá.
In this first season trip for 'Opera' most tourists are Argentines and over 65, some 'crusing' for the first time but many others are repeating.
"The fact that it's mostly people in their sixties is because the trip takes quite a few days and the youngest at this time of the year are still working".
According to Podestá several Argentine couples before boarding the vessel in Venice visited several European cities as part of a wider tour.