"Four years more are more than enough", says Argentine president
Friday, December 2nd 2011 - 16:04 UTC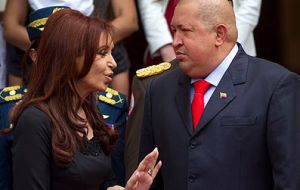 Argentine president Cristina Fernandez watered down any hopes of a limitless re-election during her visit to Venezuela stating that "four years more are more than enough".
CFK made the statement while giving a press conference with her Venezuelan counterpart Hugo Chávez who referred to her second presidential term, scheduled to begin next December 10th.
She interrupted Chávez, who mistakenly congratulated her for a new "eight-year presidential term."
"Now that Cristina is about to embark on an eight-year term and I'm going to start a six-year period next year" he began saying when she stopped him short.
"Don't even think about saying that!" she replied. "I can already see eight editorials and twenty headlines about it tomorrow. Four years are more than enough," she warned, and then explained that the Argentine Constitution establishes a four-year presidential term.
After sharing some laughs, Chávez apologized and continued his speech.
"We've got four years ahead of us in order to strengthen our achievements and re-launch our strategic relationship to higher levels, in response to what is going on in the world" he said.
As soon as Cristina Fernández achieved a landslide victory in the August 14th primaries, several lawmakers in the Kirchnerite party toyed around with the possibility of an "eternal Cristina" and suggested a constitutional amendment that allowed presidents to run for re-re-election.
However the President herself was quick to come out against the rumours and assured that she had no intentions to serve more than two terms.