'Leiv Eiriksson' rig ends oil drilling in the Arctic and sails for the Falklands
Friday, December 2nd 2011 - 00:21 UTC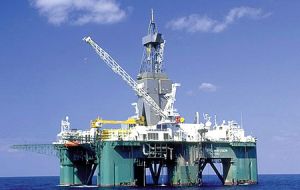 Edinburgh explorer Cairn Energy ended this week this year's 600 million dollar drilling program off Greenland after the biggest exploration campaign attempted in the Arctic island's waters failed to make a viable discovery.
The exploratory drilling was done by the Leiv Eiriksson semi-submersible rig owned by Ocean Rig UDW Inc. The rig is now heading for its new task in the other extreme of the globe in the Falkland Islands waters under contract from Falkland Oil and Gas Ltd.
The AT7-1 well, which had encountered traces of oil and gas, has been plugged and abandoned, the Edinburgh-based company said in a statement. The AT2-1 well, the last of five drilled this year, was also abandoned after reporting only "minor hydrocarbon shows." The company will evaluate its program next year and seek partners for investment.
Cairn's eight-well program, spread over two years, was one of the industry's most advanced efforts to find oil in Arctic waters and drew protests from activists who said it risked damaging a pristine environment.
Exxon Mobil Corp., Chevron Corp., Royal Dutch Shell and Statoil ASA from Norway hold licenses to explore off Greenland, an autonomous Danish territory of 56,000 people.
"The first phase of Cairn's exploration program in Greenland has encountered oil and gas shows across multiple basins and now reservoir-quality sands in the Atammik block," CEO Simon Thomson said in a statement. "Whilst we have yet to make a commercial discovery we remain encouraged that all of the ingredients for success are in evidence."
Greenland's oil and gas resources may total 50 billion barrels, according to the US Geological survey. That's more than the US proven crude reserves.
Cairn said it had spent 573 million dollars this year on the unsuccessful Greenland campaign as of the end of September, before the last two wells were completed. The company drilled three exploration wells in 2010. Mike Watts, head of exploration, said in January that Cairn was prepared to spend up to 1.2 billion dollars in Greenland on 10 to 12 wells.
In the Falklands the Leiv Eiriksson rig will first drill two wells (about 90 days drilling) for Borders and Southern Plc (B&S) before moving on to the FOGL program. The transit time from Greenland is expected to be approximately 60 days.