Spanish regions pledge to control spending; unemployment reaches 21.52%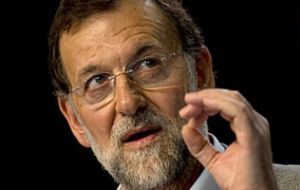 Leaders of Spain's indebted autonomous regions pledged on Thursday to control spending after meeting incoming Prime Minister Mariano Rajoy to discuss their troubled accounts, which are at the heart of the country's economic crisis.
PM elect Rajoy has not spoken publicly since the victory of his conservative Popular Party at last month's parliamentary election. But party members have said controls over regional spending; labour reform and bank restructuring will be the priorities of his administration.
Overspending by Spain's 17 regions could throw the central government off course in its drive to avoid international bailouts.
Revelations of the meeting comes when official data showed Spain's jobless numbers soared to a 15-year high in November. The ranks of the unemployed rose from the previous month by 59,536, or 1.37%, to 4.42 million people in November, the highest level since 1996, the Labour Ministry said.
The National Statistics Institute, which uses a different method of calculation to the Labour Ministry, says the number of unemployed rose to 4.978 million people in the third quarter from 4.834 million in the previous three months. According to those figures, the Spanish unemployment rate soared to a 15-year high of 21.52% in the third quarter, the highest among major industrialised nations.
Spain has struggled to find jobs for the millions thrown out of work following a 2008 property bubble collapse. The outgoing Socialist government's end-year target of a 19.8% unemployment rate now seems unreachable.
The rising jobless numbers add to the huge challenges facing Mr. Rajoy and his conservatives, which crushed the ruling Socialists in November 20 elections promising to fix the country's finances and economy.
Popular Party leader Mariano Rajoy is to be sworn in December 21 as prime minister after a vote on his program in parliament, where his party will hold sway with an absolute majority.
Rajoy has promised to make unemployment the priority of his government but he also has committed to austerity measures so as to meet Spain's promises to trim the public deficit.