Argentina and Brazil agree greater 'productive integration mechanism"
Saturday, December 3rd 2011 - 08:59 UTC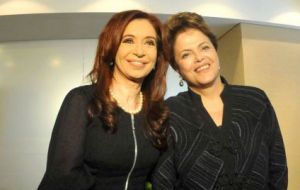 Argentine and Brazilian presidents Cristina Fernandez and Dilma Rousseff agreed in Caracas the creation of a Productive Integration Mechanism, MIP, to deepen bilateral relations.
The bilateral meeting took place Friday before the first session of discussions for the Community of Latin American and Caribbean States, CELAC, hosted by Venezuelan president Hugo Chavez.
At the end of the hour and a half meeting at the Euro Building Hotel where President Rousseff is staying Cristina Fernandez described the discussions as 'very good' and underlined that both leaders coincided in defining the bilateral relation as a "priority".
"We talked about the need to stimulate productive integration so that the international crisis does not interfere with the virtuous process experienced by our countries", said Cristina Fernandez, adding that the two countries have "a shared vision of what is happening in the world".
Argentine Foreign Affairs minister Hector Timerman underlined the significance of MIP which will be a bilateral body to deepen productive relations between both countries" since both presidents agreed that "if Brazil grows, Argentina grows and vice-versa, if Argentina grows, Brazil grows". MIP is expected to be officially created and operating in a near future.
Brazilian Foreign Affairs minister Antonio Patriota said President Rousseff had congratulated Cristina on her recent electoral landslide and underlined that the bilateral summit "is strategic for relations between both countries which effectively consider a priority the relation". This he added "will empower Mercosur, Unasur and now Celac".
"Economic development and the social question have excellent prospects in both countries", said Patriota who explained that discussions were ample "as to how to think positively and innovatively about the opportunity that the current international crisis provides to address new challenges".
Argentine Industry minister Debora Giorgi said that in the current international context where developed countries are seeing growth collapse, the purpose of the President (CFK) was to deepen the Argentine-Brazilian productive integration process so as to preserve jobs and bilateral production".
She added that the new integration mechanism should incorporate not only small and medium companies but also the large corporations.
Giorgi said that the two countries will try and substitute imports from outer region which in the ten first months of the year totalled 160 billion dollars on the Brazilian side and 30 billion for Argentina.