Malvinas next of kin in Falklands for maintenance jobs at Argentine cemetery
Saturday, December 3rd 2011 - 08:29 UTC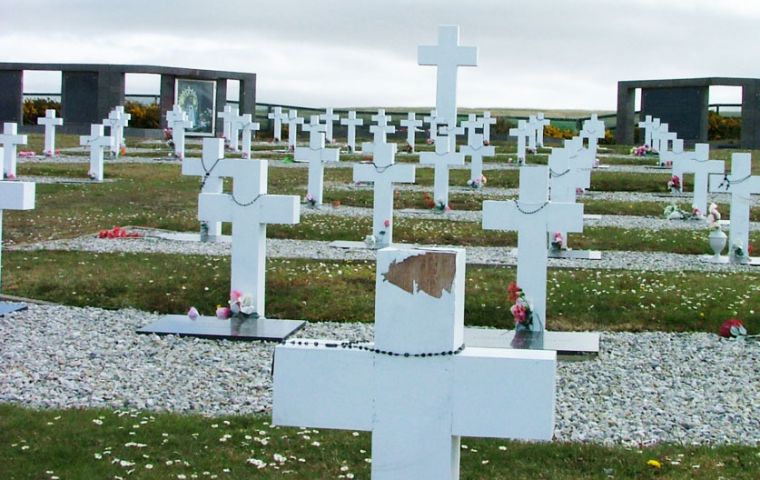 A group from the Malvinas fallen soldiers next of kin Committee is travelling this Saturday to the Falkland Islands for the upkeep and maintenance of the monument at the Argentine cemetery in Darwin.
The party is made up of the Committee's president Delmira de Cao, pro-secretary Salvador Vargas together with an architect and an engineer from Aeropuertos Argentina 2000 the group that helped finance and build the memorial where the remains of Argentine soldiers, many of them unidentified are buried.
According to a release from the Committee the party will also present a request before the Falklands Planning and Building Committee to build two walls adjoining the Memorial so that the visiting next of kin can stamp remembrance plaques which Argentine visitors normally carry to honour the fallen combatants.
The Planning and Building Committee from the Falklands government decides on construction issues in the Islands.
The original cemetery became a Memorial in 2004 when the new structure was finished at a declared cost of a million dollars and financed by Aeropuertos Argentina 2000, the group which has the concession of all major Argentine airports and Carrasco, in Montevideo Uruguay.
The memorial includes a small shrine with Argentina's saint patron and in 127 of the 234 graves at the foot of a white cross is a small flat plaque that reads "An Argentine soldier known unto God" in Spanish, "Soldado Argentino Solo Conocido por Dios".