Gibraltar's Caruana confident of new Spanish government commitment to "trilateral dialogue"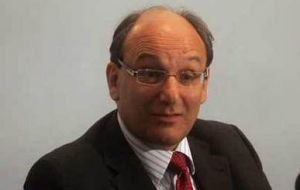 The leader of the ruling GSD in Gibraltar, Peter Caruana said he was confident Spain's Partido Popular would remain committed to trilateral dialogue, even if not necessarily to the Trilateral Forum (Gib, UK and Spain) itself in its present form.
Speaking at a Chamber of Commerce dinner, Mr Caruana said he believed Spain and the UK understood that there could be no return to bilateralism and that three-way dialogue was the only politically-viable way forward.
"Will the PP sign up to the existing architecture?" he asked. "They may hold out for a change".
"The GSD position is that if that is what is needed to keep them signed up to trilateral dialogue, we are willing to consider tweaks to the existing system so long as it doesn't alter the basic underlying principle of the existing forum".
He said Gibraltar must have a voice in its own right; that any talks must be "completely unconditioned" to any particular outcome; and that Gibraltar must have a veto on any agreement relating to the Rock.
"In other words, that there can be no agreement without our own agreement too," Mr Caruana said.
"So long as those [principles] can be saved, it wouldn't matter very much if there was some political tweaking to let the PP feel that it was not betraying what it may have already said."
Mr Caruana said that all three sides understood the need for trilateral dialogue to ensure that any problems did not spiral out of control.
He said that while the PP had been a tough critic of Gibraltar in opposition, its tone would change now that the party was in government. "When you are in the responsibility of government, you adopt a different stance".
By way of example, he singled out the PP mayor of neighbouring Algeciras, Jose Ignacio Landaluce, with whom he met recently in the Spanish city at the mayor's invitation.
Landaluce has been among the most vocal of PP critics and "has spent years being vitriolic about Gibraltar", Mr Caruana said. But the Spanish mayor had "…reached out to me and invited me to Algeciras and changed his tune".
"He didn't change his views, he still believes everything that he believed before, but he has tempered them by the political reality that one thing is to wax lyrical when you're in opposition and have no responsibility for anything, and a wholly different thing is to wax as lyrical when you're in government and have a responsibility…"