Argentina keeps to the book: ("traitor") Cobos will swear-in re-elected Cristina Fernandez
Tuesday, December 6th 2011 - 17:25 UTC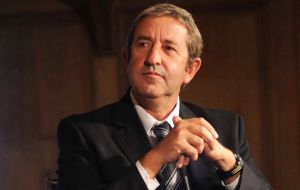 Argentine Vice-president Julio Cobos confirmed that he will be part of the swearing-in ceremony of re-elected president Cristina Fernández, and that he is "ready to face any uncomfortable situation that may happen."
Cobos' statement came after many Kirchnerites militants had suggested that the Vice President, who they considered a traitor after having voted against a government's grains export tax law in 2008, could experience a living hell if he dares to attend the swearing-in ceremony.
"Besides any critiques thrown against my person, I hope maturity will reign that day, but I'm ready to face any uncomfortable moment."
Likewise, Cobos referred o the late rumour indicating that he might end swearing in elect Vice-President Amado Boudou so the current Economy Minister could then swear in Cristina Fernández, thus avoiding any interaction between him and the Head of State.
"I have no idea if that's what's going to happen, but to my concern it will be great to have such collaboration".
To end, the former governor of Mendoza province asked for God to "enlighten the new elect presidential couple", and indicated that that the President is "as happy for having won the presidential election as he is for having kept his promise of going until the end of his mandate even though the clear discrepancies with the President and her cabinet".
The decision after much debate and uncertainty was cleared when the General Secretariat of the Argentine presidency announced that Vice-President Cobos will be swearing in President Cristina Fernandez on Saturday during her inauguration ceremony.
"By express request of the President, the General Secretariat informs that our Direction of Ceremony and Protocol will contact the Senate's Direction of Protocol in order to coordinate the swearing-in ceremony," a press release stated.
"As instructed by the National Constitution, Vice-President Julio Cobos as head of the Senate will be swearing in the re-elected President and Vice-President-elect Amado Boudou," it concluded.
The provisional head of the Argentine Senate and the first woman to hold that post, Beatríz Jorkés last week was sworn in by Vice President Julio Cobos and had kind words for him.
"He is not a ridiculous person at all" said the Kirchner Senator in response to much of the criticism he has received in the last few days. "He has just been at the wrong place, at the wrong time," she considered.
"He fell short of expectations after he failed to support the party he had been elected to represent," she explained, although she later warned that he is "an honourable person".
However Senator Roikés said that for the swearing in ceremony "the rules say it should be Cobos".