Boom of the wind power energy in north-east Brazil: 11.2 MW by 2014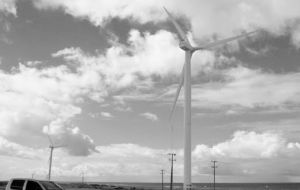 Brazil is going through a wind power boom as production prices fall and government incentives attract a growing number of foreign suppliers. The wind power sector has a current capacity of around 1,400 megawatts, and is expected to grow nearly eight-fold by 2014, according to the Brazilian Association of Wind Energy ABEEolica.
Further more a study by IHS Emerging Energy Research says Brazil, already Latin America's leading wind energy market, is expected to have 31.6 Gigawatts of installed capacity by 2025.
At a government-organized power auction last August, developers of 44 wind farms in Brazil won 39% of the total capacity contracted an average price of 99.58 Real (62.91 dollars) per megawatt-hour, offering for the first time a price below the average for two gas projects (103.26 Real) and a hydroelectric one (102 Real).
Lower production prices, government incentives and Brazil's soaring electricity demand have attracted a number of significant foreign players.
Wobben Windpower, a subsidiary of German group Enercon, set up the first wind turbine factory in Brazil in the 1990s and expects to install 22 wind farms totalling 554 MW by the end of 2012.
It has since been followed by Spain's Gamesa, Argentina's Impsa, Germany's Siemens, Denmark's Vestas -- the world biggest wind turbine manufacturer -- GE Wind -- a branch of GE Energy from the United States and India's Suzlon.
The latest to join was French engineering giant Alstom, which last week inaugurated a wind turbine manufacturing plant in the north-eastern state of Bahia, its first in Latin America. The plant, located in the industrial complex of Camacari near Salvador, Bahia's state capital, will serve the domestic and export markets.
Alstom says its ambition is to match its current 40% market share in the Brazilian hydropower plant sector, which is Brazil's main source of electricity generation.
"We won't achieve that tomorrow, but in 10-15 years we can. We are very ambitious in this (wind) sector, not only in Brazil but in the rest of Latin America" said Philippe Delleur, president of Alstom's Brazilian unit.
The greatest potential is in Brazil's northeast, particularly in the states of Bahia, Rio Grande do Norte and Ceara, due to fast wind speeds and low incidence of tornados or hurricanes. Most of Brazil's wind farms are located on land.