Tripartite Forum (UK, Spain and Gibraltar) "dead" says incoming Rajoy delegate
Tuesday, December 6th 2011 - 15:26 UTC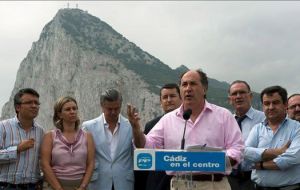 The Tripartite Forum which includes Spain, UK and Gibraltar is dead and the incoming Conservative government of Mariano Rajoy is not willing to accept Gibraltar as a third party in sovereignty talks over the disputed British Overseas Territory.
The remarks belong to José Ignacio Landaluce, member of the Spanish parliament and Mayor of Algeciras and an expert in Spanish-Gibraltar affairs who belongs to the Popular Party of Mr. Rajoy. The remarks point to a return by PP to the pre-Moratinos two flags, three voices formula.
Landaluce said that a new era of relations will open on the basis of abandoning the Tripartite Forum. Instead he says the PP wants to get back to the sovereignty talks in Brussels, interrupted in 2002 and set aside by the current outgoing PSOE government to give the tripartite forum priority.
However the Gibraltar Chronicle which runs the story says that on the same day of Landaluce's remarks, Mariano Rajoy in a significant article on Spain's foreign affairs priority, published in 'Politica Exterior', did not once mention Gibraltar.
Last week at the Gibraltar Chamber of Commerce dinner GSD leader Peter Caruana said that he was confident Spain's Partido Popular would remain committed to trilateral dialogue, even if not necessarily to the Trilateral Forum itself in its present form.
He said he believed Spain and the UK understood that there could be no return to bilateralism and that three-way dialogue was the only politically-viable way forward.
However Landaluce emphasised that the PP do value continuing a process of co-operation with Gibraltar's authorities that favour the populations on both sides of the frontier but on a different basis to that established by Miguel Angel Moratinos when PSOE foreign minister.
"Dialogue between equals and between three sovereign countries, no. I declare the three flags Forum dead. It is a corpse and it was not a situation that the PP was happy with," he said.