CFK begins her second mandate with the budget and energy bill in the red
Wednesday, December 7th 2011 - 05:39 UTC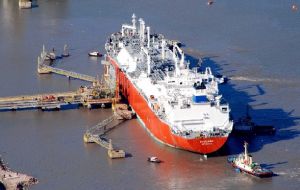 Cristina Fernandez takes the re-election oath on Saturday with government accounts and the energy bill in red, which contrasts with the surplus condition enjoyed by Argentina when she first took office four years ago.
According to private estimates published by La Nacion, the Argentine government will end 2011with a primary surplus of approximately 11 billion pesos. However this is possible because of the support from the Central Bank to the Treasury equivalent to 14 billion Pesos and the transfers from Social Security totalling 20 billion Pesos loaned on the long term at a rate of 7%.
If the Central bank and Social Security contributions were not taken into account the primary deficit this year would reach 23 billion Pesos. It is even more complicated if interest payments on public debt are included. This means the end of the primary surplus and the deficit balloons to 50 billion Pesos which is equivalent to 2.65% of GDP, according to estimates from Rodolfo Rossi a former Central bank president.
A paper from the Argentine Institute for Social Development shows that according to official data the Argentine public sector went from a primary budget surplus equivalent to 1.7% of GDP between 2004 and 2008 to an average deficit of 0.3% of GDP from 2009 to 2011.
The situation continues in the red even when the Social Security and Central bank contributions are taken into account which adds up to 8% of all revenue, equivalent to 2.4% of GDP.
Finally the report points out that one of the factors with greater incidence in the red situation is the growing energy deficit. Fuel and energy will generate in 2011 a deficit of approximately 4 billion dollars following on the numbers accumulated during the first ten months of the year.
This means Argentina will be exporting fuel and energy for 6 billion dollars but will be importing for the value of 9.8 billion dollars. Compared to last year in volume exports dropped 26% and imports soared 55%.
The energy situation is far distant from 2006 when Argentina enjoyed a fuel and energy surplus of 6 billion dollars, which was equivalent to almost half the surplus of the trade balance, concludes the report.