China and Bolivia agree on closer military cooperation and high level exchanges
Wednesday, December 7th 2011 - 22:11 UTC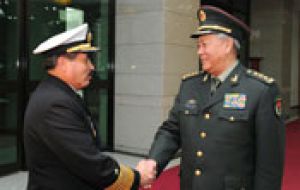 China and Bolivia have agreed to strengthen military relations which are a continuation of the "excellent links in other fields", according to an official press release in Beijing
Xu Caihou, Vice-President of the China Central Military Committee and the Chief of Staff of the Bolivian Armed Forces General Armando Pacheco Gutierrez signed an agreement to that effect during a bilateral meeting this week.
Xu underscored that the excellent exchanges and cooperation between China and Bolivia in politics, economy, culture and education have significantly increased in the last 26 years when diplomatic relations were first established.
"Our intention and political decision is that those relations continue to expand" according to the official Chinese news agency Xinhua.
Pacheco is on an official visit to China and said Bolivia is willing to further strengthen links and high level exchanges with China including cooperation in the training of military personnel.
China's head of the Joint Chief of Staff Army General Chen Bingde also had an interview with Pacheco before the political meeting.
China has supplied Bolivia with aircraft and radars for drugs control and also agriculture advisors.