EU cuts Argentina, Brazil, Chile and Uruguay from development aid
Wednesday, December 7th 2011 - 17:51 UTC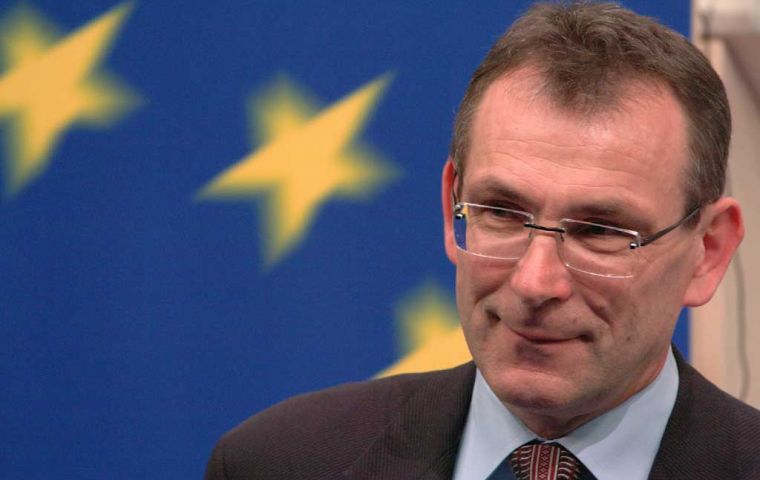 The European Commission decided to cut aid from its 2014-2020 budget to 19 emerging economies including Brazil, Argentina, Uruguay and seven other Latin American countries, the EU development commissioner Andris Piebalgs said on Wednesday.
"Countries such as China, India, Brazil, Argentina, which are either upper middle income countries or countries whose GDP represent more than 1% of the global GDP, are now able to ensure their own development and our aid does not have any longer a high impact on their development," said the EU in an official statement released Wednesday.
The commissioner said the decision was taken to bring about "a shift in our relations with emerging countries and a focus of the aid on the poorest countries" between 2014 and 2020.
The 27-state European Union is the world's biggest donor accounting for 50% of world aid with 53.8 billion Euros handed out last year. The European Commission manages 20% of that aid, or 11 billion Euros.
Argentina, Brazil, Chile, Colombia, Costa Rica, Ecuador, Mexico, Panama, Peru, Uruguay and Venezuela are the Latin American countries which will cease to receive bilateral aid together with China, Iran, Malaysia, Maldives, Thailand, Kazakhstan, India and Indonesia.
"We have a limited budget and need to focus on those countries which most need it, so that aid has the greatest impact possible", added Piebalgs.
However the EU will continue to promote development in those de-listed countries through specific thematic or regional programs and will promote new associations but not based on bilateral aid.
These associations will be founded on "mutual interests" that promote European values and issues of global concern (climate change o food security) which will strengthen private cooperation or promote trilateral cooperation to help reduce poverty in those countries.
"In this scenario countries such as Brazil, China, India or Argentina are considered more like partners of the EU in facing these global challenges", said Piebalgs.
Development cooperation will be sourced with 23.295 billion Euros: European vicinity, 18.18 billion; pre-adhesion, 14.1bn; stability, 2.83bn; democracy and human rights, 1.6bn; association, 1.13bn; nuclear cooperation, 631 million Euros and Greenland, 219 million.
The EC, besides these sums wants to grant 34.276 billion Euros to the European Development Fund, which would be an additional to the EU pluri-annual budget.
The different chapters should channel assistance to developing countries, the sixteen from Europe that belong to the EC vicinity policy and those preparing to become EU members.
"Brussels retains in this budget the sufficient funds to make the EU amply responsible globally in such areas as combating poverty and the promotion of democracy, peace, stability and prosperity", concluded the EC development commissioner.
However a European confederation of relief agencies disputed EU version that the cuts wouldn't affect the emerging countries.
"The European Commission must ensure that aid is focused on the poorest people and the sectors most in need in the world," said Sarah Kristine Johansen from the CONCORD confederation, which says it represents national aid agencies and 1,600 non-governmental organizations.
"An over-reliance on macro-economic data averaged at the national level hides the reality of poverty and inequality within countries. Aid should not be instrumental to EU strategic interests. We're talking about public money aimed at poverty eradication," she said in a statement.