Argentine lawmaker blasts UK marine conservation project in South Georgia
Thursday, December 8th 2011 - 06:51 UTC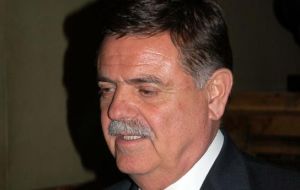 Argentine lawmaker and president of the Malvinas Islands Parliamentary Observatory Alfredo Atanasof said Britain's intention of creating a huge marine conservation zone in waters of South Georgia was "completely illegitimate".
The Times newspaper reported this week that the zone measuring one million square kilometres will be around the island of South Georgia, where the Falklands war began nearly 30 years ago, and the South Sandwich Islands.
A British official speaking on condition of anonymity confirmed the details in The Times and said a formal announcement was due in the coming days by the government of South Georgia.
The marine zone would allow authorities to ban the slaughter of whales and other wildlife, while fishing would only be permitted in designated areas, The Times said. It is a habitat for penguins, walruses and Patagonian toothfish, it added.
"The initiative is another colonialist action from Britain and completely illegitimate which requires the rejection of all sectors of the Argentine society and our Latin American partners", said Atanasof.
"The difficult sustentation of British colonial policy needs of new strategies to support its illegal position in fields that promote for example environmental actions", added the legislator
Whitehall source explained that "Argentina, like the United Kingdom, is a signatory of the Commission for the Conservation of Antarctic Living Resources so we would like to think that common interest in conservation will carry more weight than the dispute over sovereignty."
Atanasof said that the episode constitutes "a new abusive and illegitimate advance of the UK government project which is attempting to create a natural habitat for penguins, sea lions and whales in our islands".
"We are strong supporters of International law and we insist in the compliance of resolutions from the different international organizations for the reestablishment of sovereignty negotiations over the Falklands/Malvinas Islands", concluded the Argentine member of the Lower House.