Capital flight in Argentina doubles to 18 billon dollars in nine months of 2011
Thursday, December 8th 2011 - 06:47 UTC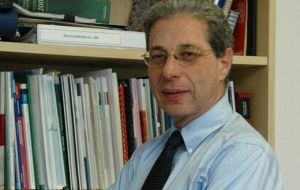 Argentine capital flight accelerated to the fastest pace in at least 10 years in the third quarter as investors concerned about inflation and a weakening Peso pulled cash out of South America's second-biggest economy.
Capital flight totaled 8.4 billion in the July-through- September period from 6.1 billion in the previous quarter, the central bank said last week in a report originally scheduled for mid November. Outflows doubled to 18 billion dollars in the first nine months of 2011 from the same period of 2010.
Annual inflation that economists estimate is 24%, the highest among major global economies after Venezuela, fueled a surge in capital flight that helped shrink central bank reserves to 48.6 billion last quarter from a record 52.6 billion in January.
"Those problems are related to the speed of inflation and the exchange rate in an international context that is more complicated," former Finance Secretary Daniel Marx said in a interview in Buenos Aires. "There are imbalances to correct going forward," he added, citing the speed of growth in public spending.
The total outflow was the most since the central bank began issuing the quarterly reports in 2002 and topped the 8.37 billion dollars pulled from the economy in the second quarter of 2008, at the start of the last global financial crisis. Some foreign currency purchases in the quarter were used to help boost dollar deposits in banks and to pay for travel abroad by individuals, said the report. Dollar deposits rose 1.3 billion in the three-month period.
The peso has fallen 7.1% against the US dollar this year, compared with a 9.0% decline in the Mexican peso and a 4% gain by the Peruvian Sol.
In the week after Cristina Fernandez, 58, won re-election on Oct. 23, she ordered energy and mining companies to repatriate future export revenue and insurance companies to bring investments back into the country. An Oct. 28 decision to heighten oversight of foreign exchange purchases led to a surge in dollar deposit withdrawals. Dollar deposits fell to 13.6 billion on Nov. 18 from 15.9 billion a month earlier.
"The government has to regain confidence and for that, the first thing it should do is eliminate those new exchange rules," said Ricardo Lopez Murphy, who served as Economy Minister for two weeks in 2001, under former President Fernando de la Rua