OIE puts Paraguay in FMD list; Brazil reopens market to mature boneless beef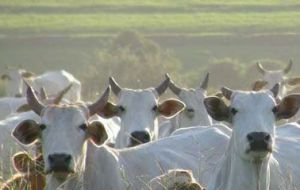 The World Animal Health Organization, OIE, dependent from FAO, informed Paraguay that its territory had lost the condition of free of foot and mouth disease with vaccine, following an outbreak of the disease reported September 18.
Paraguay from a FMD sanitary condition was divided in two different zones: one the so called High Vigilance zone, a 15 kilometres strip all along its borders (with Brazil, Argentina and Bolivia, where FMD is endemic) and zone 2, the rest of the country.
Following the reported FMD outbreak in September to the north of the country, OIE withdrew the status from the second zone, and this week added the high vigilance zone, meaning the whole country has lost its free of FMD with vaccination condition.
"From a sanitary point of view the loss of status means an aggravation for the country although the commercial impact is limited, since beef originally from the high vigilance border, remained banned from exporting", said Hugo Idoyaga, head of Paraguay's National Animal Health service international relations.
In the border area the blood tests demanded were too costly and complicated so that is one of the reasons the ban was still standing added Idoyaga.
"Now what is left is to continue working for the recovery of the status, in zone 2, which I expect, personally, will be achieved in a year's time", added the expert.
But in spite of the OIE status withdrawal, the Paraguayan Animal Health Service received an official communication from Brazil saying it authorized the introduction of Paraguayan beef under certain conditions.
According to the communication beef cuts must be mature and boneless.
The decision is the result of the conclusions from a Brazilian sanitary mission that visited Paraguay and checked on procedures and actions taken by local authorities in isolating the focus and containing measures.
The Brazilian market was officially closed to Paraguayan beef on September 18 and was reopened last 3 December.
At the time of the outbreak Paraguay ordered the sacrifice of all hoof animals at the farm where the first cases were reported, but this did not impede that the country's main markets were closed to Paraguayan beef: Russia, Brazil and Venezuela.
Daniel Rojas head of the Animal Health Service said that Russia and Brazil have now reopened their markets, adding that during November Paraguay exported beef for the value of 17 million dollars.