Euro rescue deal limited to 17-EU countries and with a March deadline
Friday, December 9th 2011 - 07:12 UTC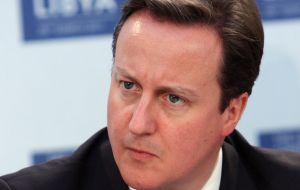 Attempts to rescue the Euro will focus on a deal among the 17 nations that use the single currency, French President Nicolas Sarkozy said early Friday.
Speaking after all-night talks at an EU summit in Brussels, he said the Euro zone bloc set a March deadline to approve an inter-governmental treaty.
France and Germany had wanted all 27 members to back treaty changes on tough budget rules to solve the debt crisis. But Britain sought concessions that Berlin and Paris did not accept.
Speaking at a news conference after nearly 10 hours of talks, Mr Sarkozy said he would have preferred a new treaty among all the EU members.
But he said that British Prime Minister David Cameron had proposed a protocol to be written in the deal allowing London to opt-out on proposed change on financial services.
"We could not accept this," Mr Sarkozy said.
Cameron had earlier repeatedly warned he would veto anything which harms British interests.
"I will be doing my best for Britain and I hope that if we get a good deal that will be good for Britain", Cameron promised before leaving for the summit.
"But if I can't get what I want I will have no hesitation in vetoing a treaty at 27 (EU members) because I am not going to go to Brussels and not stand up for our country," he said at a meeting broadcast by Sky News.
Sarkozy added that Hungary also decided to remain outside the proposed treaty, while the Czech Republic and Sweden wanted first to consult with their parliaments.
"All the others have wished to join the inter-governmental treaty," the French leader said.
Earlier in the day US President Barack Obama said he was "very concerned" about the Euro zone crisis and believed the European Union had the resources to solve it if leaders could find the political will.
"Europe is wealthy enough that there's no reason why they can't solve this problem," Obama told reporters at the White House.
"If they muster the political will, they have the capacity to settle markets down, make sure that they are acting responsibly and that governments like Italy are able to finance their debt."
Obama said he thought German Chancellor Angela Merkel had made progress with other European leaders on the issue.