Mujica changes his mind and will be present for CFK taking office ceremony
Friday, December 9th 2011 - 06:51 UTC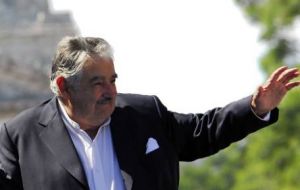 Uruguayan President José Mujica changed his mind and will attend Argentine President Cristina Fernández inauguration ceremony next Saturday, official sources confirmed.
On Wednesday, the Uruguayan Head of State office announced he would skip Saturday's ceremony and informed that his Government would be represented by Uruguay's Foreign Minister Luis Almagro and First Lady, Senator Lucía Topolansky.
Neither that announcement nor Thursday's were commented by Presidency sources. The original statement was that Mujica's doctors had recommended him to slow down his pace of activities and takes a few days rest.
Mujica and his wife share a warm relationship with Cristina Fernández and have visited her several times since the Uruguayan president took office in early 2010.
Both Heads of State are set to meet again on December 20th on the Mercosur summit in Montevideo, in which Uruguay will hand Argentina the pro-tempore presidency of the regional bloc.
Contrary to his predecessor Tabare Vazquez who clashed with the Kirchner couple mainly over the construction of a pulp mill in the shared waters of the river Uruguay, President Mujica has adopted a more conciliatory tone and has tried to bridge differences.
"We are neighbours, we share too many things and Uruguay much depends on what many times is decided in Argentina. I can't pick a fight with Argentina, on the contrary I must try to be as polite as possible with the Lady", President Mujica has been repeatedly quoted.
Uruguay is currently very much interested in dredging an auxiliary River Plate channel that leads to a major grain export port, Nueva Palmira, but this needs a consensus decision under administration terms of the estuary.
Likewise the Mujica administration is concerned with the recent money exchange controls imposed in Argentina which could have an impact for this coming summer season when hundreds of thousands of Argentines flock to Uruguayan beaches.