Cristina Fernandez advances visit to Chile from September to January 25/26
Tuesday, December 13th 2011 - 23:21 UTC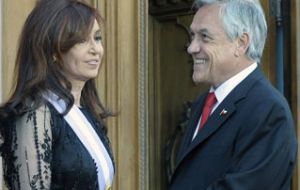 Argentine President Cristina Fernández will make an official visit to Santiago to meet with her Chilean counterpart, Sebastián Piñera at the end of January next year, it was announced Tuesday.
According to the Argentine Foreign Affairs Ministry release, Cristina Fernández had accepted Piñera's invitation given to her during the inauguration ceremony that re-instated her as head of State, last Saturday.
The official visit is planned for January 25 and 26 in 2012, when the leaders will "analyze bilateral and regional relations, debating topics such as processes of integration and infrastructural and connectivity works between the countries," stated the official communiqué.
Originally the idea was for the Argentine leader to visit the neighbouring country in coincidence with Chile's national festivities in September; however the decision was changed at last moment.
President Piñera will also host in the first half of this year his Brazilian counterpart Dilma Rousseff, according to Chilean Foreign Affairs minister Alfredo Moreno.
"Both visits are considered very important and generate great expectation given the strategic significance of neighbouring Argentina and of Latin America's largest economy", said Chilean diplomatic sources.
President Piñera since the beginning of December holds the rotating presidency of the recently created CELAC, Community of Latin American and Caribbean States, and is expected to have an additional foreign affairs agenda.