Chavez seeking re-election announces pension hikes and cash bonus for children
Wednesday, December 14th 2011 - 16:41 UTC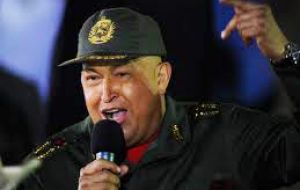 Venezuelan President Hugo Chavez has launched new social programs including hikes in pensions and a 100 dollars a month cash payment for needy children as he prepares for his re-election bid next year.
Chavez announced that the government would increase pension payments to more than 200.000 retirees through a newly created "mission" program. A day earlier, he launched a program to benefit the country's poorest children, whose parents will receive 100 dollars per child every month to help them makes ends meet. He calls that program.
The programs are expected to help Chavez cement support among the poor who are his electoral base. His government also runs adult education programs and free neighborhood medical clinics staffed by Cuban teachers and doctors.
Luis Vicente Leon, head of the Caracas-based polling firm Datanalisis, said he interprets the new social programs as an indication that more spending increases are likely in the coming months as Chavez prepares to seek re-election in October.
"We can expect a campaign underscored by money" Leon said. Opinion polls show Chavez ahead in his bid for another six year period with popularity hovering in the range of 50%.
A coalition of opposition parties plans to hold a primary election Feb. 12 to choose a unity candidate to challenge Chavez in the Oct. 7 presidential vote.
The newest programs will cost an estimated 3.7 billion dollars Chavez said and anticipated that in January he will unveil a new program to fight unemployment called "Mission Knowledge and Work."
His ability to increase government spending has received a boost from China, which has agreed to lend Venezuela about 38 billion dollars in exchange for oil shipments. Chavez said a 4 billion dollars Chinese loan will go toward building public housing.
Leon expects Chavez to make more public appearances as he seeks show Venezuelans he is vigorous and capable after his struggle with cancer. Chavez, 57, had a tumor removed from his pelvic region in June and underwent four rounds of chemotherapy. He has repeatedly said that he is now cancer-free.