After dismal year Brazilian industry expects modest recovery in 2012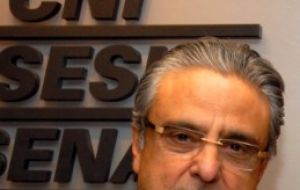 Brazilian industry saw 1.8% growth this year, well below expectations, and expansion will be limited to 2.3% in 2012 due to a global economic slowdown, a business group said this week.
"We had very strong (10.4%) growth in 2010 and we expected low growth this year, but not so low. Our forecast was 3.5%", Robson Braga, president of the National Industry Confederation (CNI), told a news conference.
The slowdown of industrial activity comes amid the international economic crisis and the appreciation of the Brazilian currency in relation to the dollar, he added.
Braga said the national industry was also being hurt by "high interest rates - which have begun to fall since the middle of the year - low investments and a very heavy tax burden".
The industrial sector is projecting 2.8% overall economic growth this year, lower than official projections of around 3.2% and a growth rate of 3% in 2012.
"Brazil grew at a lower rate than the rest of the world this year" said CNI chief economist Flavio Castelo Branco.
CNI said it expected a 2.3% pickup in its activity next year, while not ruling out that a downward revision of its forecast if the international situation worsens.
"Our main markets are Europe and the United States, which are the economies in trouble," said Braga.
Industry representatives said they were also being hurt by the high value of the Brazilian Real, even though they welcomed its slide in the past months. This year, the Real dropped 10.7% against the dollar compared with late last year.
Last year, the Real appreciated 4.6% against the dollar while in 2009 it gained 32.7% after its 23.1% devaluation of 2008 due to the global financial crisis.